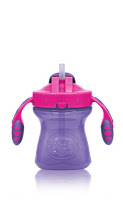 Did you know that Playtex has come out with The First Lil' Gripper Straw Trainer Cup to help babies/toddlers transition from bottles to cups?  Baby Sister likes it because she feels like a big girl.  Her brothers and sisters like it because she doesn't try to steal their drinks and straws anymore!
What I like:

It's BPA Free & Phthalate-free
Flexible soft straw doesn't hurt sensitive gums
Daddy proof easy lid attachment (you know what I'm saying)
Slider to cover the straw and stop the cup from leaking all over your diaper bag
Squeezable cup to help get the liquid started in the straw
Dishwasher safe

What I'm trying to get over:
Cleaning the straw…I wish they sold a replacement pack of straws.
Also available at:
A complimentary cup was sent for review.  As always, my opinions, and those of my 18 month old are our own.  I do not post reviews for products I either don't like or don't believe are of value or interest to my fellow moms.  We're all in this together, right?