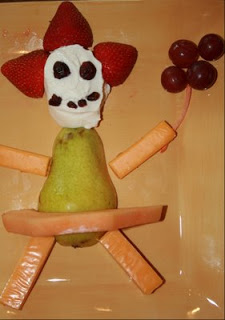 I pulled out my copies of Pretend Soup and Salad People today and made a few things with the little picky eaters. I might have to pull out these cookbooks out more often because we had the BEST day preparing food together.
The recipes aren't anything you would want to serve up to guests, but they are fairly healthy and are made for the preschool crowd. My children enjoyed "reading" the directions (illustrations with a few simple words).
From the Salad People book we made a Salad person which the kids got a kick out of. Bento Boxes here I come!
From the Pretend Soup book we've made Bagel Faces, Number Salad, and Noodle Soup. Tomorrow we are actually going to try out the Pretend Soup recipe which is a fruit soup type treat. My kids actually are good fruit and vegetable eaters, it's the protein I have a hard time getting into them.
Tomorrow I hope to try a chopped salad recipe with them (maybe I can chop the protein up so small they won't see it). Apparently this is the salad chopper to get if you are in the market for one, although this one looks a little more kid friendly.
Do you cook with your kids? Do you have any tips or favorites you would like to share? Below are some of my favorite books for cooking with kids.