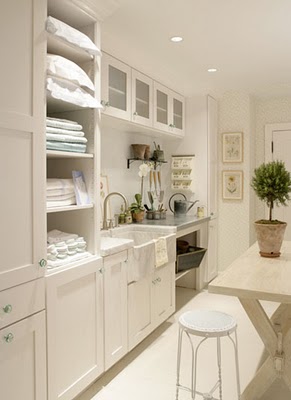 In some households the laundry room is mom's personal office. In other households its the pit of depression. Hopefully these ideas will inspire you to create a room that is both functional and enjoyable for you.
Remember, inspiration is just a launching point. The goal is not to recreate the rooms pictured below, but to find elements that appeal to you and incorporate the ideas you like best using your own space and resources.
working laundry rooms aren't the prettiest but we're keeping it real!
This first laundry room is all about form & function. When your room is not large enough for a traditional center island you may want to consider a peninsula island—one that comes off the wall. The washer and dryers are installed on the other side of the peninsula allowing for a high countertop to be placed above for folding. Hint: If you budget or room constraints coupled with large amounts of laundry to do consider getting 1 washer and 2 dryers to make laundry day go a little faster. The built-in baskets allow for easy sorting and the storage cabinets to the left can house cleaning supplies, toilet paper and other household essentials. When designing your laundry room don't forget about your hand washables, ironing board and drying racks. This laundry room can hold it all!
The Laundry/Craft roomis a somewhat new and popular idea for those who have a little extra space but need to get more out of it. Since this laundry room is larger it houses two stackable washer/dryers but also utilizes the peninsula island concept. The island is counter height and acts as a craft table with the cabinets to the left housing craft supplies and gift wrap supplies. You can place your gift wrap in the drawers for easy access. A small tv mounted on the wall makes the time spent doing laundry go faster.
Here are other examples of creative dual purpose laundry rooms.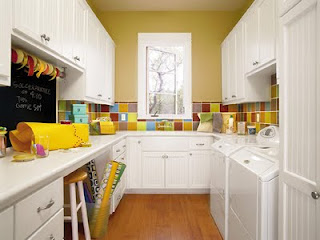 By creating a dual purpose room you take advantage of every inch of space in your home, plus you have the added benefit of doing something happy, fun, or at least distracting while you are getting your laundry done. I know of many moms who scrapbook while they do their laundry in the evening. I like using my laundry room as a gift wrap center as well. If you like the idea of a dual purpose laundry room, you won't want to miss HGTV's laundry room/personal office.
For those who like no fuss consider placing a stackable washer/dryer in your closet! Though I couldn't find a photo of one online, this is another popular idea and it will sure cut down on hauling the laundry to and from the laundry room!
Another creative dual purpose space to place laundry rooms is in a closet in the kitchen. You can use your kitchen counter tops for folding laundry if need be after the counters are cleaned and the dishes are put away. This is great if you are short on space but have a kitchen island!
What does your ideal laundry room look like?


You'll be blessed with tips on how to handle bad days, cultivating curiosity, teaching with Legos, and much much more!