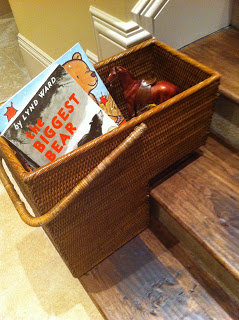 When you live in a two-story home you are made more aware of your laziness. Hence, the need for the infamous basket on the stairs. The basket is a catch-all for all the things that need to be taken back upstairs—-but not right now, later.  Presumably when I have more energy or can make one of the kids do it.
I must admit, it certainly makes cleaning up easier.  However, if you are going to use this system  its important to make sure it truly serves its purpose—- and doesn't become that thing that it is not: a place to put things that have no home. 


A place for everything, and everything in it's place.
 No, to work efficiently there must be two strictly enforced rules…
#1
The only things allowed in the basket, are things that belong upstairs
#2
The basket must be emptied every night
,
without fail.
Do you have a basket on the stairs? Do you have a place for everything? 
If not, you may want to join me next week as I begin my "
A place for everything"
project at my home.
I will share some of my favorite organizational tricks

and solutions
—
-and hopefully get the online encouragement and accountability I need to finally clear out our storage units and finish the final unpacking.