It's no secret that women are fascinated by the closets of other women.  I know I am! I enjoy seeing how other women organize their wardrobes because you just never know what tips you can discover!  In honor of Spring Cleaning I'm sharing organizing tips straight from my own closet.
2 Essential Rules to Organizing your Closet: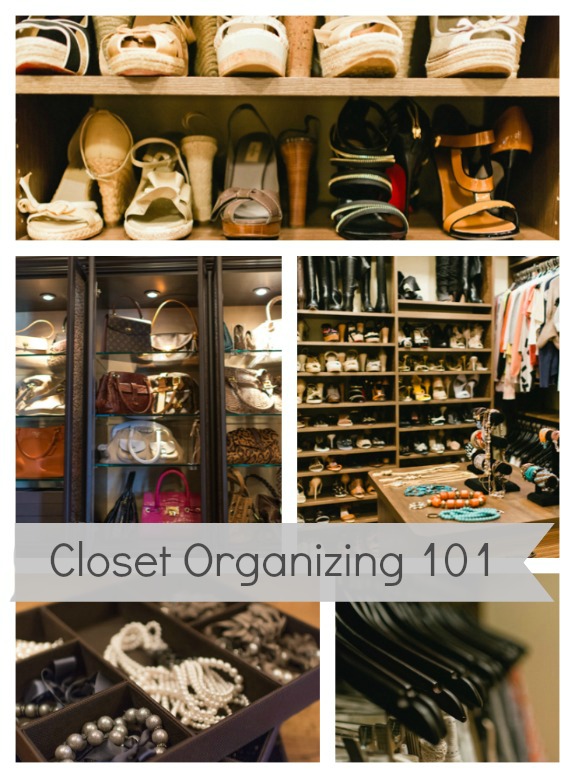 Learn to Edit: Become a Curator of your Closet
Most women stand around inside a jam-packed closet declaring they have nothing to wear.
What they really mean is they have nothing they like wearing.
If you don't like the clothes in your closet or you haven't worn it in awhile, why are you keeping it?
Donate, Consign, giveaway or throw out the clothes that are taking up space in your closet.
Even if you reduce your closet by 50% at least it will be easier to see the remaining 50% of your clothing that you actually wear and you'll have the space to start rebuilding your wardrobe, wisely.
 Maximize the space you have
When I worked as a Professional Organizer the hardest thing I had to teach my clients was that it wasn't that their closets  (or homes) were too small, it was that they had too many things for their closet.
Learning how to use your closet space wisely is important, however it's not as important as being realistic about the actual space you have to work with.
Try not to think of this as a negative. Sometimes being forced to choose helps us with the first rule, which is to edit our wardrobe to what we actually wear.
Tips for Organizing Shoes
Shoes. I have an obsession with shoes.  I also have large feet so it's not easy to find shoes in my size, which makes me buy shoes as I find them instead of based on what I may need, like a black ballet flat.
Looking at my shoes I also realize that there is a part of me that must think I Walk the Red Carpet for a living. I have way too many pairs of sparkly pretty heels for a homeschool Mom of 5.  Maybe I need more date nights?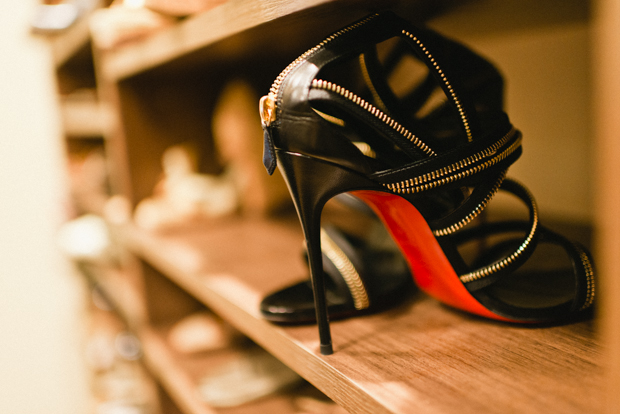 Okay, enough joking.  Organizing your closet is serious business.
Here is the first rule:  Don't line up your shoes in a straight line. Instead, flip one pair backwards and you'll fit more on the shelf (or the floor).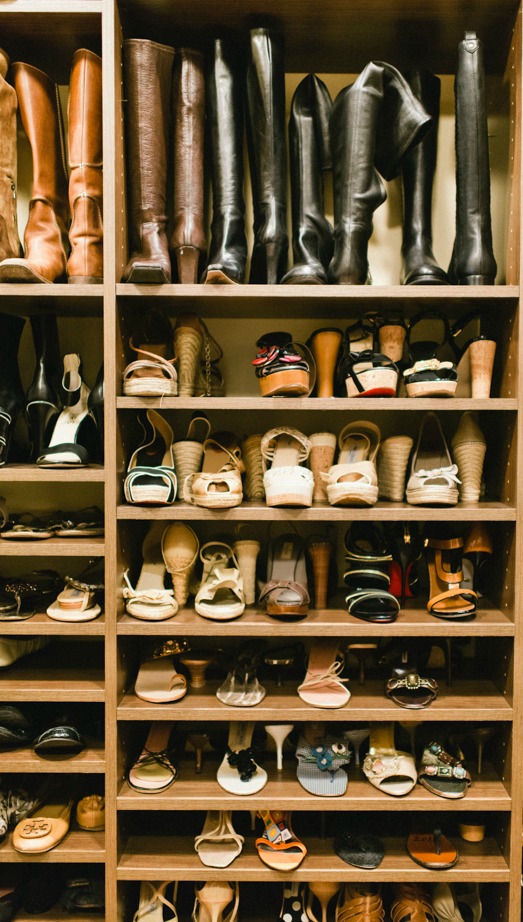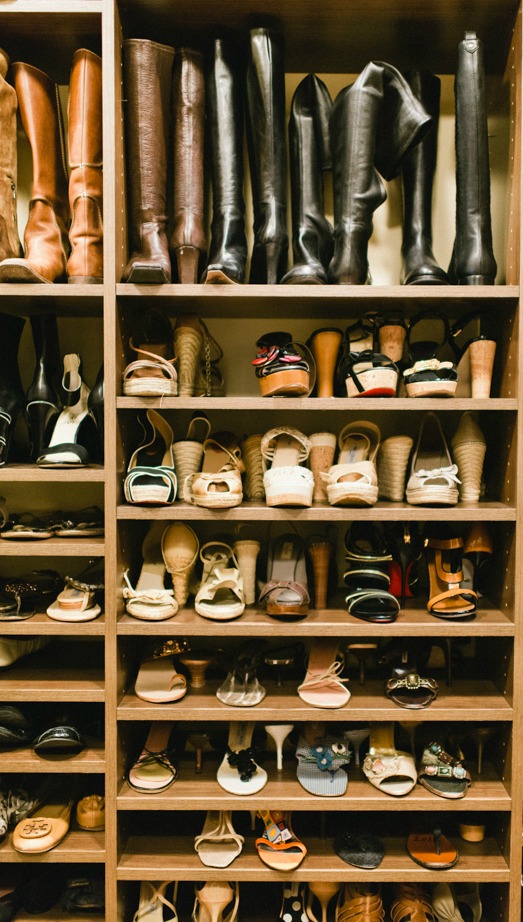 Keep the Left shoe facing forward and flip the right shoe, then slide it back a little.   This works well with both heels and flats.
Here's a tip for organizing sandals:  Put them inside each other.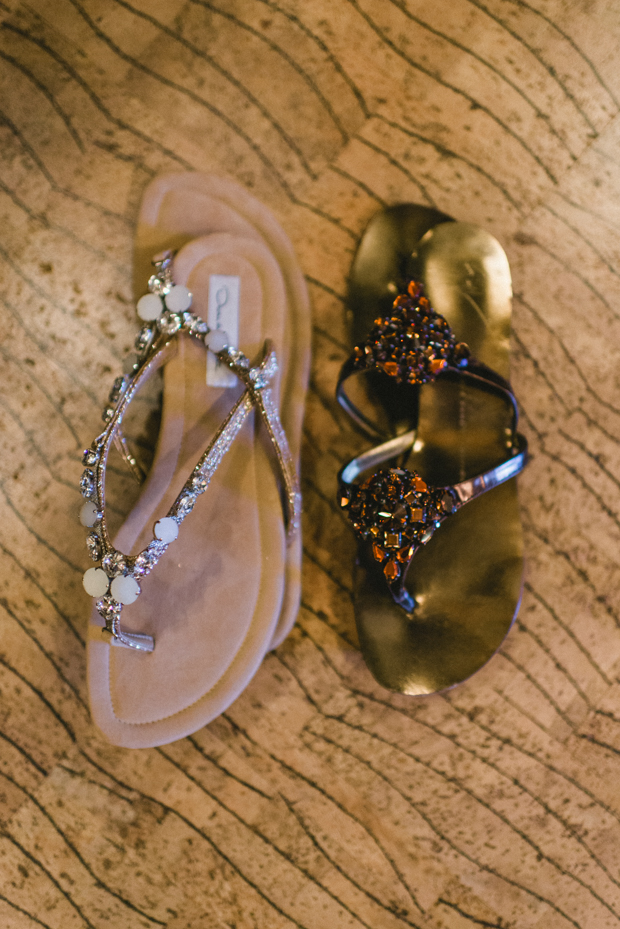 If it bothers you that the sole of one shoe is touching where your feet are, you can flip it so one pair is upside down. I don't do it that way because this looks prettier to me.
 How to Organize your Handbags

Well, I guess my handbag obsession is now out of the bag (pun intended).
A friend once encouraged me to organize my closet in a fun and attractive way.  She said it would make getting dressed each morning (instead of just throwing on the closest pair of sweat pants) much more enjoyable.
At first I thought it was silly, but I have to admit that it works.
I now try to display my accessories much like they do in stores. It gives me the feeling of shopping—only I'm shopping my own closet!  This also encourages me to be creative and come up with new wardrobe combinations.  Neat and pretty is always inspiring, isn't it?
Don't feel you need to have a large collection in order to create a  display.  Remember, a collection is just more than one.  Display what you have.
To help handbags keep their shape I stuff them. You can use shoe bags, tissue paper or butcher block paper.  I also use Acrylic Shelf Dividers (which can also be used for organizing clothing).
Resources: Acrylic Shelf Dividers
How to Organize your Jewelry
There are two ways to organize your jewelry: Display it or Store it.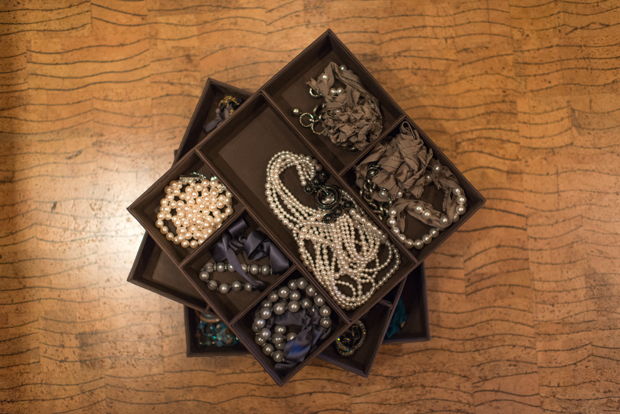 My favorite way to organize and store costume jewelry is to simply put it in Stackable fabric boxes which can they be stacked and stored in a closet, on a shelf or in a drawer.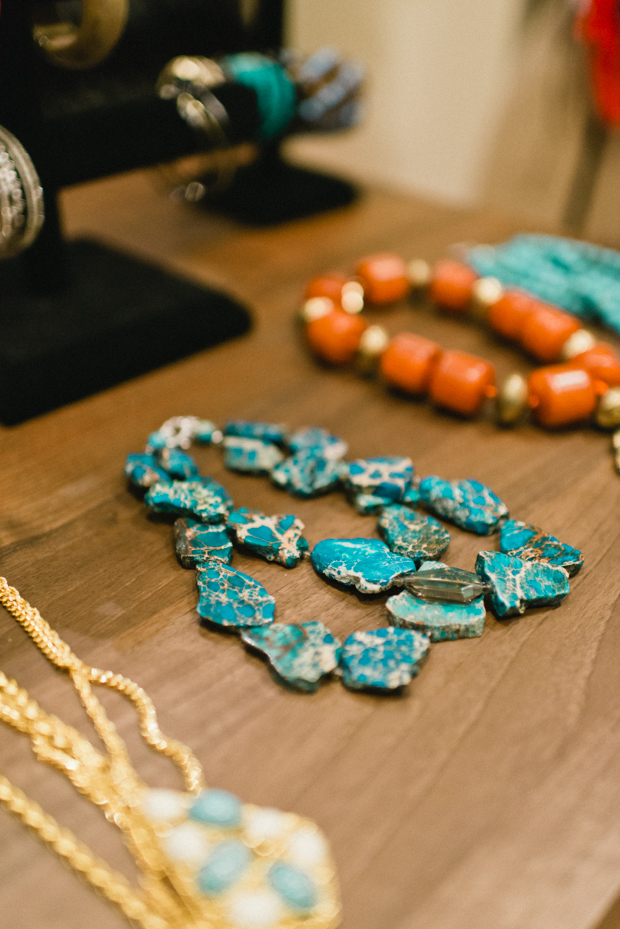 Displaying favorite pieces, trendy pieces or new pieces is also fun.  I have a small island inside my closet where my laundry and dry cleaning bins are stored.  However a dresser or vanity table is also a great place to lay out fun pieces and encourage the art of enjoying and wearing what you own.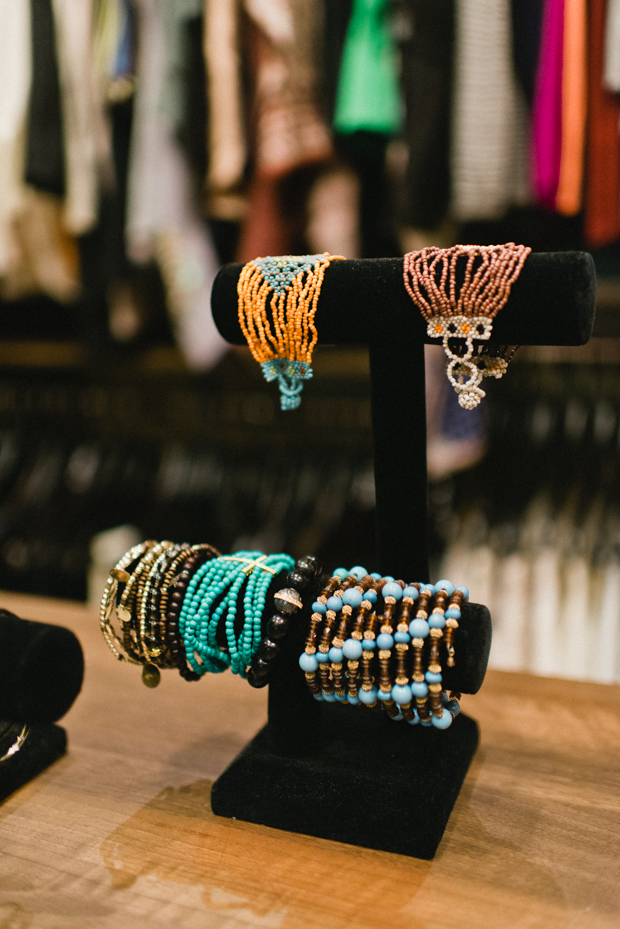 Resources:  Tiered Jewelry organizers, stackable jewelry trays.
 Basic Closet Organizing Tips
Have matching hangers.  Whatever kind you can afford, just make sure they match.
Not only does it make a difference aesthetically,  but good hangers protect your clothes from damage.
Changing hanger styles to one uniform style is generally done over time.  The easiest way to do this is to choose a type of hanger in your price range and then, either weekly or monthly, replace the  (assorted) old hangers in your closet with the new style.  If you are choosing a style that is on sale, make sure it isn't on sale because it is being discontinued.  Otherwise, you may not be able to replace your hangers over time before they sell out.  Good hangers are a worthwhile investment because you can truly own them for a lifetime.
Invest wisely.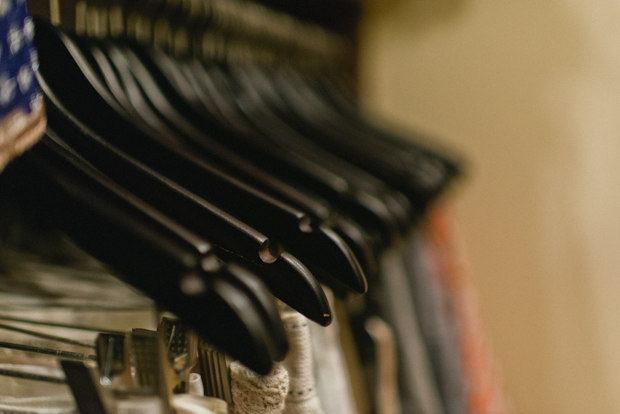 Group items in your closet by category: Shoes, Blouses, T-shirts, Cardigans, Sweaters, pants, shorts, skirts etc.
Generally, after you've grouped your wardrobe by category you can then organize each category even more by grouping into subcategories.  A popular way to do this is to simply arrange the clothing by color, from lightest to darkest.
As you can see from my closet, I don't do this.  I prefer to arrange my clothing in subcategories of style.  My blouses are grouped by sleeve length, my pants by leg cut, etc.  I group my dresses in subcategories of: casual, dressy daytime, evening, corporate, cocktail and gowns.   Don't feel you need to do this.
Always  arrange your clothes in the way that makes the most sense to you and is the easiest to maintain.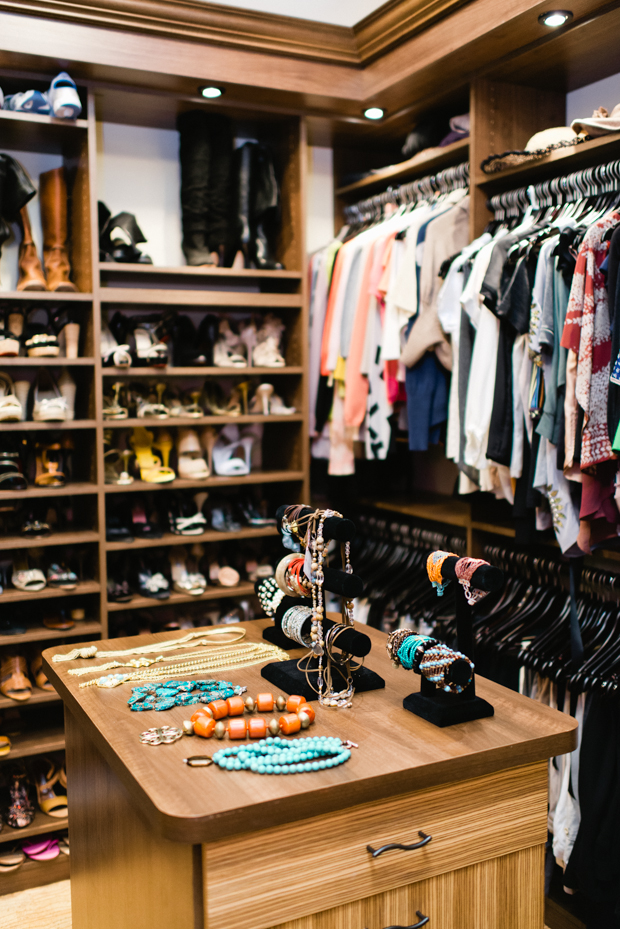 Remember the out of sight, out of mind rule.  You want to be able to see what you have.  Hang the clothes you wear most often and store other clothing (particularly those sweat pants or gym clothes you keep grabbing when you aren't working out) in drawers.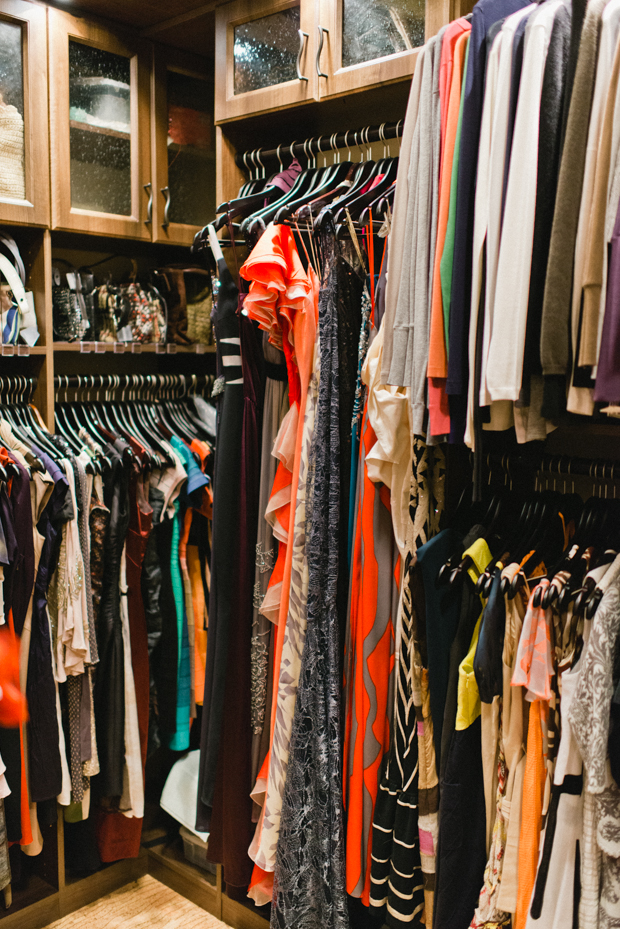 How to maximize Drawer Space
Instead of stacking your clothes on top of each other, arrange them in the drawer (as shown below) so that you can easily see everything you have at first glance.  This also maximizes space as you will be able to hold more clothing in each drawer.  Try it, you'll see!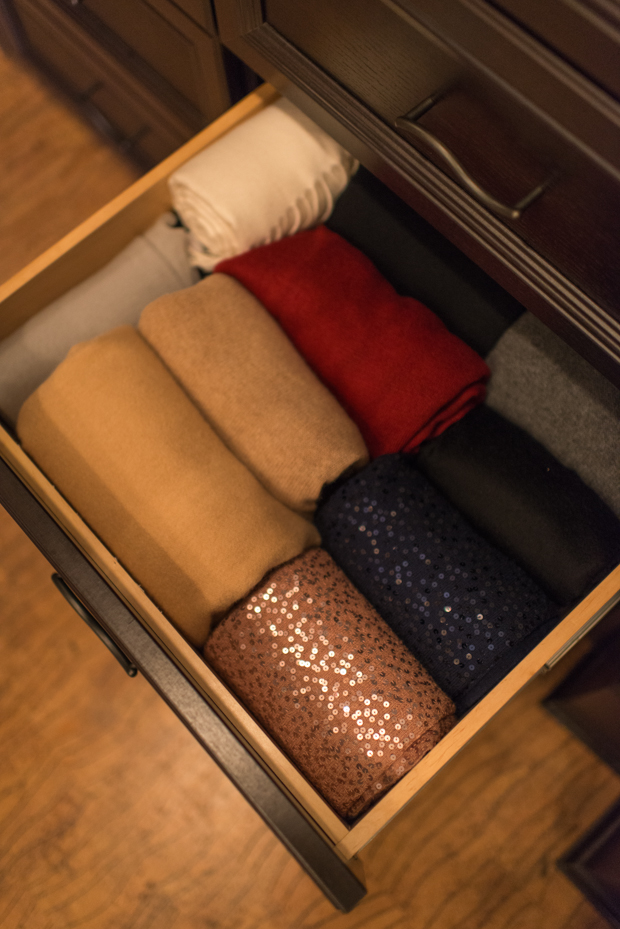 The picture above shows my collection of heavier shawls/scarves but this system also works well with t-shirts, tank-tops, and gym clothes (as shown below).
In the interest of full-disclosure I'll admit that I have to edit my t-shirt drawer some more.
I often get asked if the t-shirts come out wrinkled when you store them this way.  The answer is no.
When you properly fold the clothes (and don't cram too many in) the t-shirts come out beautifully. Try it!
I hope you enjoyed the tour of my closet and learned a couple tips and tricks you can apply to your own closet.  Do you have any organizing tips to share with me? Please do so in the comments.