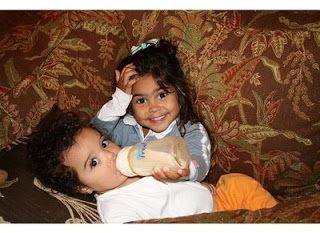 Pumpkin is really enjoying her role as Cutie Pie's Big Sister.
I just know she is going to be a good Mama someday.
Even if she currently gives all of her children (baby dolls) the same name.
Kasha.
No idea where she ever heard that name.
But she loves it.
Ever since I was pregnant she's loved that name
I wish I had a video of her thrusting her belly in and out so that I could feel Kasha kick.
Then she would stop suddenly and say,
"Oh, the baby is sleeping now."
Three is a trying age.
Two was much easier.
But these moments with her sister make it so sweet.
The only thing sweeter is the fact I have 101 grandchildren to look forward too!
Perhaps it's a good thing they will have the same name?
I hope Big Daddy is as excited about it as I am.
Pumpkin says she and her 101 children will live us and they can sleep on her bedroom floor.