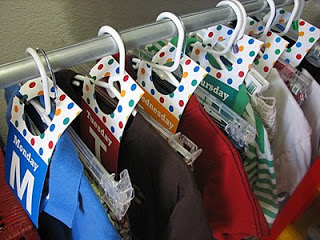 I'm constantly amazed at all the great things you can find on the internet—for free.
My most recent find, that I had to share, can be found on Amy Lucurto's terrific blog: Living Lucurto.
Amy has graciously posted free downloads of her days of the week clothing tags available in bright (boys) and pastel (girls). Not only is it a great way to teach the days of the week (sorry, homeschool moms make everything a learning opportunity) but think of how much easier your morning ritual will be when you have the outfits selected and tagged in advance. I usually lay out my children's clothing for them each morning, but I think I'm going to start doing it in advance for the week. I recommend printing them on cardstock and then laminating them for additional durability.
Too cute!
Happy Organizing!