If you aren't going to Blissdom, just skip right over this post.
I know it annoys the heck out of those who aren't going to hear all about it constantly.
Read
this
post instead.
Really, it's okay…
Based on all of the advice I received from experienced Blissdom attendees I've created my packing list for the conference.
I read that bringing a power cord will make you popular. I'm a people pleaser. So I'm bringing two. That means people will really like me right? Sally Field, eat your heart out.
Much emphasis has been made on having cool Pajamas. I'm guessing this is because people are sharing rooms and they want to look cool. I'm going to be in a room by myself. So I'm going for comfy pajamas. The kind that Big Daddy frowns upon at home. I think I have some hidden somewhere…
Camera, camera batteries, charger and 2 brand spanking new memory disks.
Cell phone so I can tweet, text and fend phone calls from home such as: what time do the children nap, where are the spoons and what time do they eat? You know, stuff Dads do not know.
Printed itinerary of Blissdom agenda. You can download this one or make your own.
200 cards I ordered especially for this conference. I'm a bit nervous about how you go about handing these out. I mean will people really ask you for them? Is it like trading baseball cards? Do certain cards hold more collectible? Or is it just handed out after you've determined that you'd totally be BFF's IRL? I'm not sure, so if you see me and you're into getting cards ask me for one, or twenty. I have a lot!
Dress for the cocktail party. Dressing up is my favorite thing to do. I love it. I love sparkly shoes too. Most people wear black so I'm going to wear blue…I also won't have to worry about this dress getting wrinkled in my bag. Bonus!
3 outfits for the conference days. Everything I read suggested you bring clothes that make you happy, comfortable, and put forward the you, you want to project. I wasn't quite sure what me I wanted to project. Homeschool mom? Hip girl? Blogger? Pro Blogger Wanna Be? Approachable? Confident? Confident yet approachable? Cute? Cute, but not too cute? Neurotic? But I pulled together three outfits and when you see me you can decide what me I'm projecting. Hopefully it is something positive…and approachable…and not dorky.
Travel clothes. Travel clothes are comfy, warm and get you through security quickly and efficiently. I have no problem wearing the same travel clothes there and back. Is that gross? I'm trying to pack light.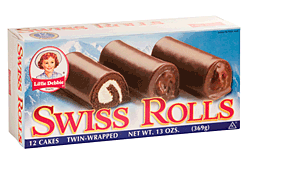 2 Boxes of Little Debbie Swiss rolls…because I'm addicted and they help with stress. While I expect to be having fun I also expect to be stressed out because I'm not good in a crowd of people I don't know. Maybe I better make that 4 boxes of Little Debbie Swiss rolls…
My Computer, because this is a blogging conference after all. And even though I don't think I really want to bring it to all the sessions (gasp!)—-I would like to blog to my hearts content at night when I'm hanging out alone in my hotel room. Not that I mind being alone, mind you.
Flat friends…Like a true dork I'm going to bring my blogging flat friends along since they cannot come this time around…I'm a good friend aren't I? I just hope I don't get charged for an extra seat on the plane—or worse, get hauled away to the looney bin for walking around with flat friends! I think Lindee and Pooba are good sports though for traveling Baggage Class!
So, that is my packing list. Did I forget anything?