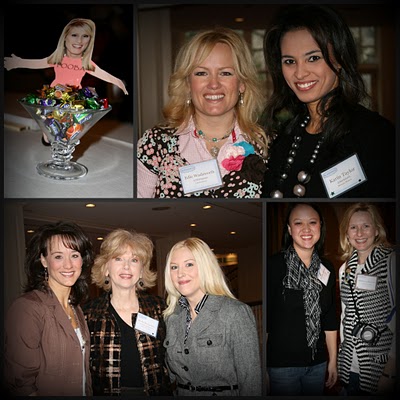 If you are a blogger and have never attended Blissdom, I highly recommend that you read these posts and consider attending this amazing conference next year. It is truly an amazing opportunity to connect with other bloggers and to grow as a blogger.
What I learned…
I came to Blissdom not knowing exactly why I was coming, but expecting to leave learning a thing or two about this thing called blogging. What I left with was far more than I expected, and I'm not talking about the swag bags. It was amazing to connect on a deeper and more personal level with women whose hearts I've seen bare on the pages of their blogs; Women whose stories I've come to know, cherish, follow and care about. Oh, and can you believe it? They care about mine. I'm still trying to take that in. I don't think I was ready for the panel discussions, but boy was I ready for the community & fellowship.
In one of our sessions we were encouraged to set up a Fan Page to encourage community on our blogs. The belief is that if you enjoy reading a particular blog, chances are that you'll have more in common with others who also enjoy reading it. I set up a Mommy Matters Blog Fan Page so you can not only connect with me on Facebook, but also other readers of my blog whom you may also have things in common with. Out of respect for Big Daddy I keep my personal Facebook account private but I use Twitter and Mommy Matters Blog Facebook Fan page to connect with readers and fellow bloggers, so please understand if I cannot accept your friend request on my private Facebook account. I kinda like being married to the father of my 4 children.
Your posts should be long. Your posts should be short. It doesn't matter if your posts are long or short as long as they are well written, well edited, have resolution and are entertaining…or something like that. Which do you believe? Apparently there are no wrong answers to this question. Which may be a good thing since this is the l-o-n-g-e-s-t post I've ever written!
The Nutty
There was no sweet tea
to be had in the Opryland Hotel.
Southern women were having fits ya'll. But this did spark several conversations on how to make the ultimate sweet tea and I soaked it all in so I can make my own when I get home.
At the opening session we played two ice breaker games. One had us going to corners of the room based on our birth month and the other had us grouping together by the region we live in. I live in Florida so I went to the South East corner. Did you know Southern women don't consider Florida the South? Are we the Caribbean? I always wanted to live in the Caribbean!
Melissa at
A familiar Path
has been blogging for a million years.
Doesn't she look good?
Since she has been blogging for a million years it seems that everyone always tells her that hers was the first blog they ever read. Then
she claims
they move onto reading other blogs, while becoming wildly successful and popular—or something like that. I'm not sure I buy all that but I do know that her blog
was
one of the first that I read and I'm
still
reading it!
Did you know that Melissa doesn't eat fruits or vegetables and she doesn't make her children eat them either? The only thing she does make them eat is things that they should like. Things like pizza. Is she great or what?

Domestic Debacle is the sweetest woman, even if she did tweet that I should be forced to wear an orange vest at the next Blissdom. After enjoying her facial and massage (she won it!) at the spa she met me in the Godiva chocolate store on the last evening of conference. I wore an orange sweater because I'm a people pleaser…and I may or may not be afraid of her. Just kidding…maybe.
It used to be my dream was to homeschool throughout the country in an RV. Now my dream may just be to attend Blog Conferences throughout the country in a private plane. Blog conferences are wildly addicting and what's not to love about a private plan? Well, a girl can dream anyway.
The sweet
Edie bakes the most
amazing cup cakes
and has such a gentle and sweet soul
you just want to sit in her presence and soak it all in. She gave me a bookmark that is tucked into my Bible.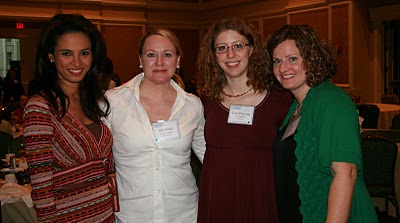 I had the most amazing lunch conversation with Pearls and Grace, Vita Familiae, and Flip Flops and Applesauce (not their real names). As a homeschool mom I don't get to "lunch with the girls" very often and this was one of those lunches that made up for a whole year's worth of lunches I might have had. If you are a Christian, its one of those things we simply call A God Moment. These ladies and our conversation is now etched in my heart. Thank-you! You have no idea how much I wish we lived in the same town!
The Embarrassing
Darcy and her husband are the sweetest most talented couple
and I'm so glad I got to meet them both in person. But since I live under a rock I didn't realize until
oh so late
that Darcy's husband is also very
talented photographer
. I thought it was amazing that he built her school room and is handy around the house. Now I know— he can build stuff
and
photograph stuff. Truth be told he can probably do a lot more that I don't even know about—but what can I say? He had me at build stuff!
The Question
I
set up a poll
to find out what it was that people liked about this blog. If you haven't participated in the poll, please do soon because I want to take it down next week. It is on the right side bar.
Ultimately every writer needs to determine
who
they write for.
While it is easy for one to say, "I write for myself" it isn't entirely true.
If you want to write for yourself then why not just journal?
I believe on some level we all just want to know that we are heard. I also want to connect. So please tell me what keeps you coming back and lets start a conversation.