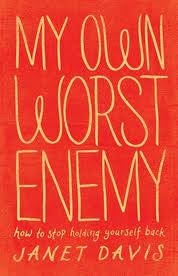 According to Speaker and Author Janet Davis, women often find the biggest obstacle to being all they were created to be by God is…themselves.  Is this you?
Through personal stories of modern women, shared lessons from her own life, and stories from women in the bible Janet Davis explains how every woman (even you, even me) is called to shine for God's kingdom and how we can break the destructive patterns that prevent us from living out our purpose in God's kingdom and feel fulfilled.  So many areas of this book spoke to me personally, it would be impossible to pick a favorite section so instead I will share an outline.
The book  starts out by describing 3 different "faces" that we may choose to wear:
The Unimagined Life
The Unworthy Life
The Unlived Life
The titles say it all, don't they?
Then the phases:
Identity (who you are in Christ)
Creativity (conformity vs uniqueness)
Shining (Recoiling vs radiance—being a light)
Then our choices:
Choosing vulnerability
Choosing to say no
Choosing to tell your story
Choosing to re-create in the midst of loss
Choosing to persevere in the midst of injustice
Choosing to Grow up
Choosing to Say yes to God
After reading this book I felt encouraged to live more authentically,  without fear of rejection or shame. I also felt inspired to dive deeper into scripture and study more women of the bible, particularly those whose stories mirrored my struggles and heartaches.
If you've ever struggled with finding your voice, living authentically or had feelings of wanting to do something GREAT for the Kingdom but not acting on it…this book is for you.