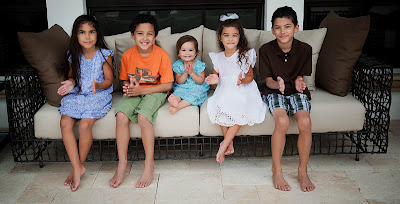 5 of the 6 Reasons I get up in the morning
Friday Links & Things is a new idea.  A place to put the things that aren't quite enough to warrant a blog post, but are still worthy of a share.  Like fine wine, I expect it will get better with time.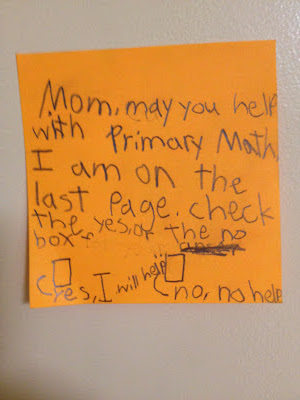 Post-it notes from my son
Do your kids leave you notes? One of our sons likes to leave me post-it notes about his math work (he's homeschooled). He makes me laugh. 
We never know what you'll find in our pool
 Living in Florida you never know what you'll find in your pool.  Still, I have to admit I was a bit surprised when the boys found a crawfish ALIVE in our pool this morning…How do you think it got there? The kids are obsessed with telling me their various theories this morning.




Click Here:
This summer we are all about our Yonanas Machine and making every frozen concoction known to man.  If you don't know what a Yonanas machine is you really need to check it out. You take frozen fruit and turn it into a soft serve ice cream like dessert—without the dairy.
Have you heard about the Orbitz debacle? The Wallstreet Journal headline read: On Orbitz Mac Users steered to pricier hotels.  Basically, Orbitz marketing has revealed that Mac users tend to spend 30% more on hotels. So now Orbitz is using that information to steer them towards the pricier options. Orbitz shot back on USA Today claiming that they don't really charge Mac Users more than Windows users—they are just "personalizing results" with the higher priced options.  Do you use Orbitz?


My latest online obsession is the Sheknows Mommalogues  I think they really need a Mother of 5 on there.  You know, someone like…. me. I'm just saying.  That's a total hint. I'm sure they've just misplaced my email address. I'm on Twitter ya'll!
Lately I've been obsessed with Sweet Tea, drinking it and finding recipes. Did you know that Sweet Tea isn't just for drinking any more? Do you have a sweet tea recipe that is the absolute best? Please share it with me in the comments. I'm experimenting with Sweet Tea Recipes. So far I've only come up with buying a gallon of Chick Fil-a Sweet Tea.  I need to try harder I think.


Speaking of tea, Tetly is looking for consumers who think they have the best Iced Tea Recipe to submit their recipes
by email to
:
TetleyIcedTeaRecipes@gmail.com.   To enter: include your contact information, full ingredient list and methodology by June 30th. The winner will be announced by July 9, 2012 and is limited to US Residents only.
Friday Links & Things is inspired by my friend Laura at Hollywood Housewife.  She also inspired me to answer the 7 questions that scare me. Be sure to check out her links this weekend, I know I will be.