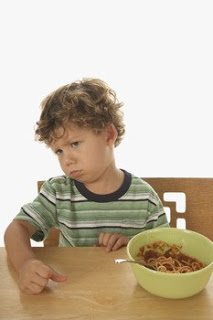 If you have Picky Little Eaters in your household you may be interested in Nourish Interactive website's Picky Eater Tips or the Mayo Clinic's 20 Tips for picky eaters.
I'm sure my own mother would say that I was a picky eater. I have vivid memories of being made to stay at the table until midnight as I engaged in a battle of the wills with my mother. She said I couldn't leave the table until I ate everything on my plate…and so I sat. Refusing to eat.
I, of course would say that I just didn't care for some of the meals she made. It wasn't that she was a bad cook. It was just that I've never liked certain foods. The difference with my children is that they only eat 5 things. Or so it seems to me at the present time. And they complain, bitterly. Then they want more food 5 minutes after throwing away the meal I prepared, untouched. I never asked my mother for more food and I always ate at least something on my plate, even if I didn't eat everything. In other words, I don't feel I deserve to have these picky little eaters!
Were you a picky eater?
Do you have picky eaters at home?
I'd love to hear your stories. You know, misery loves company and all that.