I am surprisingly Old-Fashioned in many ways.  I prefer classic clothing, love classic films and like little girls to look like little girls.
One of the things I always thought I would NEVER do is take my girls to the spa for a manicure and pedicure.  That was something I felt should be reserved for when they are teenagers…and I actually still feel that way.
Then, one rainy day, I decided to play spa with the girls and paint their nails.  That started a somewhat regular bonding time of getting their toes painted (a very pale pink) by Mom and it was fun to do that with them.
Suddenly, my 4 year old (Pixie) became obsessed with colors.  She who has never met a bright and sparkly color she didn't love.  Her older sister (rule follower that she is) would only say, "Whatever color you think Mommy" and was content with whatever that color would be.  But Pixie wore me down.  Not with temper tantrums (that doesn't work on me) but with sheer enthusiasm and girlish excitement.
Pretty soon hot pink was the "conservative" choice given her predilections to all things ultra bright and sparkly.
Then I got lazy.  Or tired.  Whatever.  Before I knew it I found myself  letting them get a manicure and pedicure at the hotel spa where we were staying for a homeschool conference.   It was an activity I hoped would entertain them for a portion of the day while I was busy picking curriculum for our upcoming school year.
Then we went on vacation and I noticed they could get their nails done at the same time I got mine done. Hotel spas are actually now catering to young girls by offering spa treatments for children.  It's becoming big business. Go figure!
Now,  I fear I've started down a path that I cannot turn back from: The path of the painted nails.  I don't want them to grow up too fast. I don't want them to experience too much at a young age.  I want them to enjoy being little girls, but what do I do when these little girls want to play "dress up" by having their nails painted?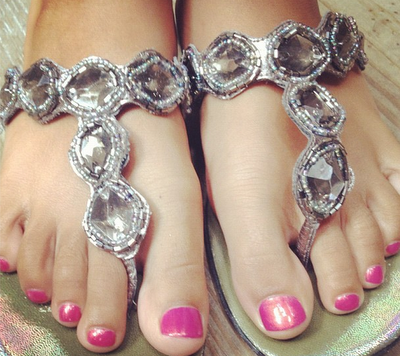 Thankfully, they don't really care if they have a "spa mani or pedi".  Truth be told, they prefer to have me paint their nails and I think that's what we're going back to.
That, and some paler polish!
How do you feel about painted nails on little girls?  Have you ever thought you'd do one thing when it came to your kids and found yourself doing another?