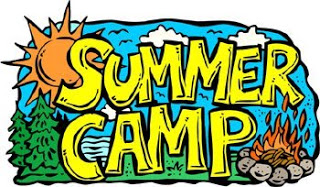 Did you grow up attending summer camp each summer? I did. Where I grew up the kids attended day camps, not sleep away camps. Of course it was also ONE camp per summer, which doesn't seem to be the case these days. One year it was the Girls Club another year, The Boys and Girls Club and another year it was a state park where we all got chiggers from crawling around the woods and learned to put nail polish on them each night. Good times!
It seems that summer camp has become a rite of passage. Although we homeschool year round I have always worked in a variety of summer camps into our homeschool program each summer. One of the things I like about the summer camp offerings, is that it is a great way to try out a sport or activity without a huge commitment.
Whatever your child's interest, there is a camp for it.
This year we are enrolled in:
Art camp, Fairy Princess Dance Camp, Nature Camp, Soccer Camp, Piano Camp, Golf Camp, and Surf camp.
I justify it in my mind that these camps serve as our extra curricular activities or PE program, which they do. Or that they also allow my children an opportunity to spend time with other children on a semi-regular basis, which is also true.
My children certainly aren't exhausted or over scheduled. The camps they are enrolled in are half day camps, which seems about the right amount of time for their age. They enjoy them and look forward to them. They also don't attend them every week. Some weeks their sibling has camp and they stay home. That's what happens when you are part of a semi-large family and your father is a Road Warrior CEO and your mother won't let anyone else drive you anywhere.
But am I spoiling them? Should they just spend time in our home enjoying the "lazy days of summer" with no camps at all? Or, does this not really apply to them because they are homeschooled and each day already allows them time to explore their own interests at their own pace, and enjoy downtime?
Sometimes I wonder if it's just too much. Or if the doctor will prescribe enough Valium to get me through surf camp. My boys can swim, but what about the sharks? I plan on hanging on the beach with a lifeguard who doubles as a babysitter that I've hired for the week. True story. I think between the two of us we can bust a move out into the surf and rescue my children. Or she can perform CPR on me if I have a heart attack watching the lessons. The boys meanwhile cannot wait. And they have friends who will be attending this camp for the 2nd or 3rd year in a row, so obviously they survived. I'm hoping I do too.
What is your take on summer camp?