I recently wrote an article for Heart of the Matter Magazine that included back to school tips for homeschooling moms. One of the tips most commented on was my suggestion of creating a mom uniform.
Oprah once featured a show that had hundreds of mothers wearing baggy sweat pants, oversize t-shirts and their hair twisted in a knot on top of their head. Yep, it was a nationwide mom uniform—and it sucked!
Did I mention I wore it too?
Yes, many mothers already have a mom uniform.
Its just not one that they can feel proud about or being seen in.
After years of Big Daddy complaining I finally got my act together and so can you.
Throw out those baggy sweats, t-shirts and hair scrunchie. You don't need the lazy temptation.
You can do it.
Then, come up with a uniform you can be proud of.
T-shirts and jeans,
shorts and a tank,
Polo shirts and jeans, short, slacks etc.
dresses,
twin sets
Whatever it is, decide on the look and then build your wardrobe around that.
You can build a great wardrobe cheap. So don't use money as an excuse.
If you need help check out my friend Andy Paige's website, Cents of Style she has great tips and even offers a beauty boot camp and personal shopping assistance.
You will be so glad you did.
No more hiding behind the soda displays at the grocery store.
In my own personal quest to be the cool, hip, stylish mom I've decided to change up my mom uniform to include tanks and jeans. I was never really a jean person, but I'm going to give it a try for fall—-in Florida, so I hope I don't sweat to death in the jeans!
Here are a few that I'm currently obsessing over available from Ellembee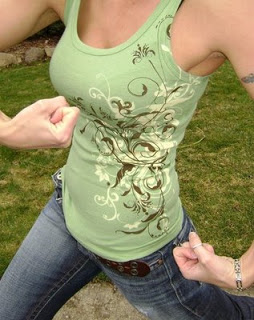 Floral tank in celedon or Robin's egg blue
Lacy Indigo v-neck
Chocolate brown scoop Dandelion Wishes
You can also hop over to A Soft Place to Land and enter the contest to win one of these cute shirts. I've got my fingers crossed for the Floral tank in celedon.