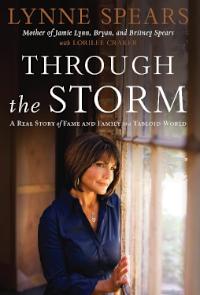 Thomas Nelson Publishers recently released review copies of:
Through the storm: A real story of fame and family in a tabloid world by Lynne Spears
What drew me to this controversial book was my curiosity.
Who hasn't heard about the recent turmoil in the Spears family and passed judgment?
If ever there was a family under attack it would be the Spears family. I was curious to read what a mother's perspective on it all would be. Would she see what the rest of us see? Was there another side to the story?
I admit I had also heard the rumor that this was a parenting book.
It most certainly is not a parenting book, nor was it ever supposed to be one according to Lynn.
It's also not a tell-all book.
You won't find any juicy details about any celebrity in this book and Lynn has only the kindest thing to say about her ex son-in-law Kevin Federline.
You also won't find any new details about Britney's breakdown either. Nor will there be any new revelations concerning Jamie Lynn's pregnancy.
What you will read is a celebrity mother's account of her own life, mostly the period before her children became famous. If you've ever been curious about the woman in the photographs with Britney & Jamie Lynn, then this is the book for you.
Lynn chronicles her life and speaks in detail about her childhood, early marriage (and eventual divorce) to Jamie Spears, her relationship with her sister and her regrets about not holding on to her teaching career. Towards the middle of the book she discusses her naive attitude towards the entertainment industry and a few of the regrets she has had along the way. Throughout the book she does speak briefly about her faith, but this is not really a book about her Christian faith, although she identifies herself as having a strong one.
Although I found the first half the book to be an interesting read I felt the last few chapters of the book were disjointed. In these chapters Lynn discusses Britney's breakdown and the birth of her third grandchild. There is nothing in these chapters that hasn't already been revealed in People magazine. It is obvious Lynn is hesitant to discuss her children's personal life and you have to admire that. This book is not an attempt to sell off any remaining bits of privacy the family has. But what is it an attempt to do? After reading the book I'm a little unsure, as I'm sure Lynn was when she wrote it. While I cannot say that I feel I know Lynn Spears anymore after reading her book, I can say that I have more empathy for her. And perhaps that is the point of reading any autobiography?