Here are some of my holiday picks from CricketMag.com
Of course it goes without saying that I think the world of their magazines for children. We currently subscribe to both
Babybug
and
Ladybug
but there are more great titles for every age group and interest.
The Mozart Effect: Music for Babies
My sister-in-law SWEARS that my nephew is the mathematical genius that he is due to her playing Mozart to him constantly as a child. I just like the idea of exposing young children to classical music.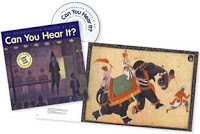 Can you hear it? Book and CD
By Dr. William Lach and the Metropolitan Museum of Art
Each work of art presented in the picture book corresponds with a musical track on the accompanying CD, and "readers are prompted with questions to look and listen in ways they have never before. An introduction to musical instruments precedes the 13 selections". Now, what homeschool mom wouldn't be intrigued by this? Chalk this up as another must have educational gift.
Happy Shopping!