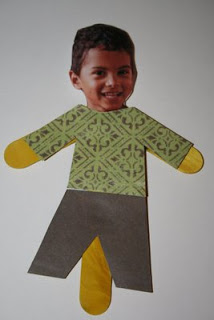 Materials:
2 popsicle sticks
1 photo of your child
2 pieces of patterned paper
glue stick
scissors
Instructions:
Cut one popsicle stick in half with scissors
Cut out clothing for stick figure (dress or pants and shirt)
Cut out head of child from photograph
Glue headpiece onto stick figure
Lay dress or shirt onto stick figure, below head to get placement for arms
remove dress or shirt piece and glue "arms" onto popsicle stick
Glue clothing
allow glue to dry for at least 15 minutes before using
Don't be a perfectionist with this craft. Allow your child to have fun making this craft and designing the clothes—so what if the arms are a little off and the clothing isn't perfect? It is still a fun craft and it involved cutting, gluing and dramatic play!
Although your kids will absolutely love seeing a stick puppet of themselves, don't forget to make one of Mom and Dad and the family pets. They will enjoy acting out scenes if they have the entire family to play with.