What is it about the Pottery Barn kids catalog that sends me into shopping fits?
If you have children it truly could double as a decorating magazine, if you could avoid shopping from it. So many ideas. So many great color schemes. So many happy things sure to bring on nostalgic childhood memories…
And now for my dilemma.
Well, maybe using the word dilemma is an exaggeration.
It's not a dilemma so much as it's a shopping urge and blogging fodder. Okay, so I don't need to shop, but I do need something to blog about!
So here it is.
As a little girl I always, always, always, always, always, wanted a play kitchen.
And, as you've probably guessed by my overuse of the word always, I never got one.
Never.
I'm now 37 and I don't believe I have gotten over it.
So, of course I feel my daughters NEED to have one.
And, not the tacky one that I would have been satisfied with as a kid.
Oh no, I want them to have the latest greatest gourmet play kitchen available.
Because we want to give our kids everything we can, don't we?
But we shouldn't make Christmas, or life for that matter, about material possessions.
So what to do?
There are two play kitchens calling out my name and tugging on my wallet.
Or, Big Daddy's wallet, as the case may be.
One, is if course Pottery Barn Kid's Gourmet Kitchen

What is not to love about this kitchen? The refrigerator has a little water/ice dispenser and the pull out freezer below. The stove has four burners and a griddle/grill middle insert and just look at how roomy that oven is? I think the girls are going to need those burners and extra oven space when they cook up Thanksgiving dinner together, don't you? The sink is just darling in all its stainless steel wonder. You can even buy it as an island! I think my heart just skipped a beat over that. You can buy the whole set for $779. Oh and did I mention the cute PINK mixer? Tell me that isn't the cutest thing!
The other is from FAO Schwartz.
The colors of this play kitchen are more playful.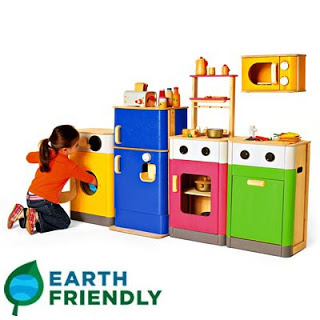 It doesn't scream out, "I'm a spoiled brat whose Mommy was deprived and didn't get a play kitchen". It's also a GREEN gift. Yep, good for the environment. I guess that is why it sells for $950 and is currently SOLD OUT. I may or may not have purchased this one already using a variety of online discounts. It may or may not be returnable which makes my current obsession with Pottery Barn's Gourmet kitchen a TRUE dilema.
Okay, it's still not. But humor me.
Which one would you prefer? Is it excessive to buy a gourmet play kitchen? Or is the total quantity of gifts that makes it obsessive? If my girls received this and a couple books would that be okay? Or is it just excess from the start?