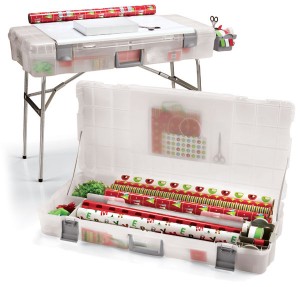 There is no better time to get organized for Christmas 2009 then right now.
I know the temptation is there to just junk everything into a box and worry about it next year, but don't do it. Think about what a gift it will be to have everything nicely organized as you kick off your holiday preparations next year.
One of my favorite things to do, post holiday, is stock up on all the Christmas clearance items in the way of gift wrap, tags, bows, tape, tissue paper and even ornaments (great for themed trees and holiday package toppers).
My all time favorite purchase was from The Container Store where I purchased their Gift Wrap Table. It holds even the longest of rolls and has room for tags, bows, tape etc. Although I also store additional paper and supplies in other containers—this works great. You might also consider using it for your non-holiday wrap (birthday, generic, baby shower).
I also like the vertical gift wrap organizer which works especially well if you have to store your wrap in the garage, attic or basement.
If you have a craft room or large enough personal home office you may also want to consider a simple blueprint cart which can also be
found at office supply stores.
So check your supplies and see what you need.
Remember, when buying gift wrap, ribbons etc. try to stick within the same color palette so you can build on your gift wrap wardrobe easily each year without worrying if everything matches and coordinates.