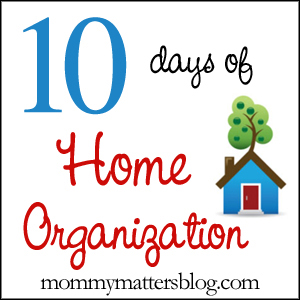 7 Organizing Truths you should know (and face) before beginning a home organization project:
If your circumstances change your organizational systems need to either change or adapt.   Unfortunately, using old systems in new situations is rarely effective.  As your life changes you have to be willing to adapt your systems or create new ones.
Organization is a skill, not a talent.  Skills can be learned (and taught to your children).  So stop making excuses for yourself, your spouse or your children!
Being organized is not the same as being neat.  It's possible to be neat but disorganized.  A desk with piles of paper that is organized in a working system may not appear as neat (or attractive) as a completely clear desk (with everything shoved in the drawers) but it can be more organized.  Organized isn't always pretty and pretty isn't always organized.  Remember: A place for everything and everything in it's KNOWN place!
It's not that you have too little space, but that you have too much stuff for your space.  No one likes to hear that (especially if you've recently downsized) but it's true and the faster you accept  this, the faster you'll get control of the stuff in your house and stop having it control you.  If you need any more motivation to start decluttering take a look at the time it takes you to maintain, manage, move, reorganize and clean your stuff.  Feeling like you don't have enough time? Get rid of some stuff and see how much more time and space you find.


Simple Systems Simply work—so keep it simple.  Complicated systems may look fancy or seem well thought out, but they're also time consuming and unless you live by yourself, chances are you'll have a hard time getting the rest of your family (or your spouse) to follow it.  Keep it simple if you want to keep it going.

Every oganizational system needs a maintenance plan. Schedule time to maintain (or tweak) your system and you'll avoid having to redo the whole project later. A filing system can lose its effectiveness if you never purge it of outdated material.  Your perfect laundry room will stop being effective if you don't keep it regularly stocked and maintained.  If your system is hard to maintain it's a sign that it either isn't simple enough or isn't the right system for you.
 Organizing systems are not one size fits all.  What works for your neighbor may not work for you.  By the same token, the way you organize one child may not be the best system for another.  Effective organizing systems reflect the primary user(s) and the way they think. If you want others to help you in the home you have to make sure you create systems that work for them too.


Ready to begin? Join me again tomorrow as we continue my series on 10 days of Home Organization


The 10 Days Series is organized by iHomeschool Network, a collaboration of outstanding homeschool bloggers who connect with each other and with family-friendly companies in mutually beneficial projects. Visit us on Facebook, Pinterest, and Twitter.  And of course, click the image below to visit all the 10 Days posts from these homeschool moms of the iHomeschool Network.
You'll be blessed with tips on how to handle bad days, cultivating curiosity, teaching with Legos, and much much more!