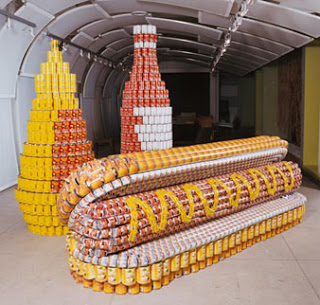 Canstruction is a unique food charity that hosts design/build competitions. Teams of architects, engineers, and students mentored by these professionals, compete to design and build giant structures made entirely from full cans of food. It takes 8-12 weeks and thousands of cans of food to create each structure.
The results are displayed to the public as magnificent sculpture exhibits in each city where a competition is held. The public is invited to donate canned food at the time of the exhibition. At the close of the exhibitions all of the canned food used in the structures is donated to local food banks for distribution to emergency feeding programs that include pantries, soup kitchens, elderly and day care centers. It's amazing what these artists have come up with, isn't it?
Thanks to Of Mice & Ramen for posting about this on your blog. I would have never heard of this otherwise. I cannot wait to take my kids!
Please go here to see if Canstruction is coming to your city. Palm Beach county residents should go here for local exhibit information.