National Collection week for Operation Christmas Child is November 12-19, 2012.  Operation Christmas Child is a ministry program from Samaritan's Purse whose mission is to demonstrate God's love to needy children throughout the world, in a very tangible way, on Christmas Day.
This year our family is participating in Operation Christmas Child. I can think of no better ministry program for them to participate in to prepare their hearts for the upcoming holiday season.  Their enthusiasm has been wonderful to watch but even more wonderful for us, has been witnessing them begin to grasp that they can make a difference in someone's life, right now.  They don't have to wait until they grow up.  They can impact a life NOW…and that has been powerful.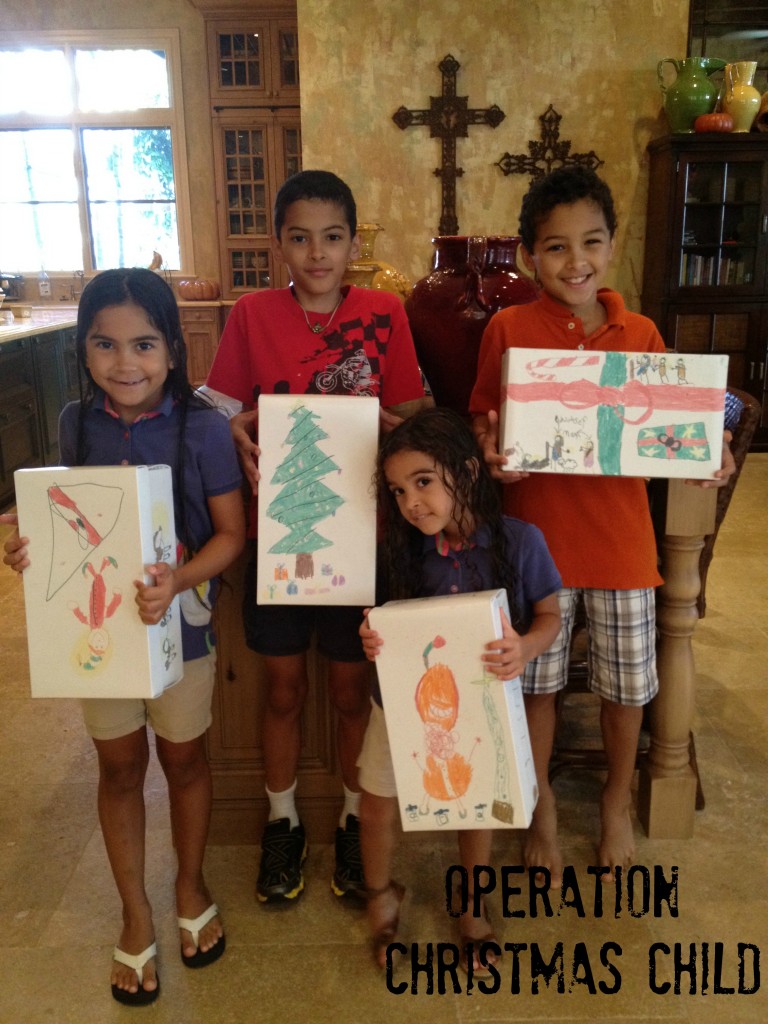 It's surprisingly easy to teach your children to consider others before themselves.  All you have to do is give them an opportunity to do so, and they will most likely surprise you.  Much thought went into every item we selected for our boxes and that lead to another gift- the realization that these unknown children they were shopping for, were not really that different from them.  They just didn't have the same blessings.
How to participate in Operation Christmas Child:
Decide who your box (or boxes) are for:  Boy/Girl 2-5, 6-9, or 10-14.
Please read,  what to pack in your box and then make a list of items you would like to purchase.  Ideally each box should include items from all 4 categories: Toys, educational items, hygiene and other (sweets, clothing, accessories).
Print How to pack a shoebox forms and labels.  Place form in your box along with $7 donation (per box) to cover shipping costs. If you make your donation online, you will be given a special label to copy which will allow you to receive an email letting you know which country (or countries) your box(es) went to, along with more information about the program offered there.
Determine nearest Drop Off Location and deliver your box(es) during National Collection week: November 12-19, 2012.
Pray for the child(ren) who will receive your box and their families.
Spread the word (Facebook, Twitter, Blog, Word of Mouth, Tell a friend, involve your church) so that more children may be blessed through Operation Christmas Child and hear about the Good News of Jesus Christ!
How to involve your children in Operation Christmas Child
Tell your children about Operation Christmas Child and watch, the Journey of a shoebox in 3 minutes video together.
Involve them in selecting who your box(es) will be for.  Ask them what you think you should include in the box.  If possible, involve them in the shopping trip.
Consider purchasing a white Shoebox so that your child can decorate the box with markers, stickers or paint.
Make a Follow your box donation so that your family will receive notice on where your box (or boxes) went.  Read more about that country and the program offered there with your child.
How to help spread the word:
I'd like to invite you in not only participating in Operation Christmas Child (OCC) but to also help spread the word.  How can you do that? If you are a blogger you can share your own experience and link your post below.  You can Tweet about the program using #OCCboxes as the hashtag.  Tell your friends on Facebook or at Church, involve your neighborhood or encourage your extended family to participate.

As a member of iHomeschool Network's Samaritan's Purse Blogger Team, I write about the ministry on a volunteer basis. All posts are my own thoughts and do not necessarily reflect the views of Samaritan's Purse. I am not an employee, agent, or contractor of Samaritan's Purse. For official information, please see the Samaritan's Purse website.