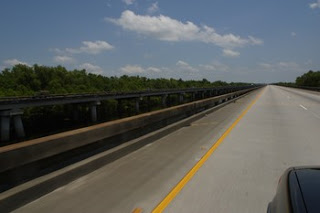 It must be love that is making me drive 3 hours and 45 minutes per day to take the boys to/from nature camp. They are going to the most amazing nature camp this week, but sadly, I had no idea it was so darn far away when I signed them up! You see I'm one of those moms with no sense of direction.
Seriously, my 6 year old son sometimes gives me directions or points out when I'm going the wrong way. That tells me that it isn't my fault. I was obviously just not wired to have a sense of direction. And so I accept it. As if I have a choice. And use my car's navigation system. Which sometimes takes you the longest way possible, but at least you get there, right? Left to my own devices that probably wouldn't happen, I can assure you.
After the first day of driving I starting seriously considering getting a hotel room near the camp. Spontaneous mini vacation (from driving)! But again, that won't work because of all the darn appointments I have at the construction site.
So, today I'm going to try sitting around for 3 hours, reading a book and maybe blogging in a Starbucks (if I can find one without getting lost). Sitting around for three hours and reading a book or blogging sounds better than driving an extra 1.5 hours, don't you think?
But even though I may complain to myself (or Big Daddy) and fill the tank up a few more times this week, the truth is, I really don't mind. The boys are learning so much and having so much fun, I think it's worth the extra drive and sacrifice of my time to give them this experience. I don't homeschool them because it's a fad or is easy. I homeschool them because I am willing to make the personal sacrifices that homeschooling requires, to reap the benefits that I see that it can bring.
I think moms are just wired that way.