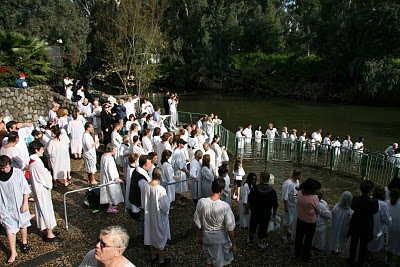 I was raised Catholic, which meant that I was christened as an infant. When I was a sophomore in high school I was invited to attend a First Baptist Church with a friend. It was there that I first gave my life to Christ and was baptized.
On our Holy Land Tour we stopped at the Jordan River, where we were each invited to renew our baptism. I'll admit that at first I was less than enthusiastic. I have what you might call high maintenance hair and I wasn't looking forward to wandering around for the rest of our tour sporting a frizzy afro, or returning to our hotel exhausted, only to face  1 1/2 hours of blow drying and flat ironing.
As my luck would have it, our Pastor was encouraging couples to participate in the baptism together so that the husbands, as spiritual leaders of their home, could participate in the baptism of their wives. Since my husband is a new believer and Jewish convert, I especially didn't want to deny him this opportunity—-frizzy hair and exhaustion be darned!
We were therefore buried with him through baptism into death in order that, just as Christ was raised from the dead through the glory of the Father, we too may live a new life.
Romans 6:4 NIV
Since the Jordan River is the site of where Jesus himself was baptized by John the Baptist it is considered a Holy site, and modesty is required—along with five sheckels to rent a gown and use the bathroom facilities!
Below is a short video of my baptism. I'd be remiss if I didn't tell you that the water was colder than any drink I was ever served during our visit in Israel…

…after coming up out of the water, it just didn't matter though!