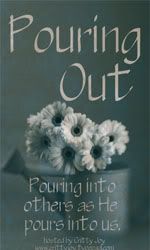 This weeks challenge was to send out a handwritten letter of encouragement to someone.
Isn't it amazing how the handwritten note can carry more weight than email, even though an email is instant?
What does that say about instant gratification?
I used to be a letter writer but was frequently disappointed because I rarely got one back.
When I send out my letters this week it will be without any expectation of getting one back. I will just love and encourage unconditionally.
Just like our heavenly Father…