If you're married to a Road Warrior, chances are he has his Road Warrior gadgets down. But, do you? Gadgets are equally important to Road Warrior Wives and here is my list of Top 3 iPhone Apps for Road Warrior Wives.


TripTracker
Keep track of your man using Trip Tracker. Enter in the flight info (including tail number for those who are lucky enough to still fly private in this economy) and the app will keep you posted and alert you when the flight is delayed or has landed! My kids also enjoy looking at the map and seeing exactly where Daddy is during his trip: A bonus feature for homeschooling Road Warrior Wives!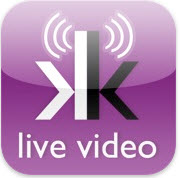 Knocking Live Video
This app is not only FREE but amazing. Using this app you can stream live video to any recipient you choose (who also had the app installed on their phone). Currently there is no audio but I can think of many great uses for this app. Now Road Warrior Daddy doesn't have to miss Baby's first steps, Sally's ballet recital, or Timmy's turn up at bat! Also, the kids can see Daddy on the road, at his hotel, conference, driving through the mountains etc.

iVideo Camera
Sometimes you won't be able to send Daddy live streaming video because he will be on a plane, or in the middle of a meeting and won't be able to answer the "knock" from Knocking Live Video. If you aren't able to stream live video you can choose to record video using iVideo Camera which has 4 video camera settings including my favorite, "breaking news". Once the app is installed the user can record up to three frames per second for a full one minute, at a resolution of 160 x 213. Using this camera app you can then share your video via email, YouTube, Facebook, Twitter, Flickr, Vimeo, SMS Link or TwelveSeconds. At .99 cents its a great buy even if you don't think you will use it that often.
Are you married to a Road Warrior? If so, what are your favorite apps?