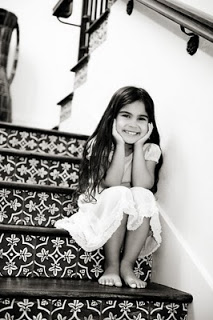 I recently asked Pumpkin if she knew I loved her.
"Yes" she replied.
"But how do you know I love you?" I asked.
"Because" She said, somewhat exasperated that I would even ask her such a thing, " Why would someone pray for a baby if they didn't want it?  What Mother doesn't love her baby?"
Oh thank-you sweet Jesus.  My daughter knows she was prayed for.   At five years old she has experienced our family praying for her little sister and we are again praying for the child that will one day join our family. 
She knows my love for her and thankfully is blissfully unaware that there are mothers out there who don't love their daughters.
I won't pretend that it didn't hurt to know that my mother didn't love me.  But I've found healing in knowing that my child knows that I do love her and that the best kind of love comes first from God.  The very person I asked to bless us with her.
He is so faithful.  He cares about your hurts, even childhood ones.  He makes a way for you to be healed, even at 38. He allows a little 5 year old girl to say just the right thing to remind you not only that He remembers, but that by His wounds you are healed.