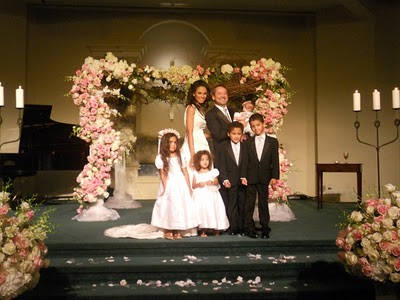 I never expected to get as emotional as I did when we renewed our vows this past weekend.  After 10 years and 5 children (how many times can I work that into a sentence? I love it!) I definitely felt married. 
Lucky for me my sweet husband insisted. He was raised Jewish and as a new Christian (2 years) he wanted to renew our vows in Christ at our church with our amazing church family, friends and neighbors there to celebrate.  What started as, "Well, I want to wear my original wedding dress then" evolved into a full blown wedding with our sweet friends helping plan the events and just making it magical in every way. 
Even allowing us a "honeymoon night" while they watched all 5 kids following our dinner reception.
I have much more to say on the topic but I want to wait until we get the pictures back from our photographer.
Until then, my parting word of advice would be this:  Renew your vows with your sweetheart at 10, 15, 20 or 25 years.  You won't believe what it will do for your marriage.
P.S
I need to update this signature line to say mom of 5!