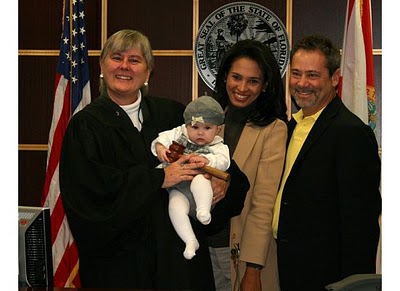 A judge finally made OFFICIAL what had already happened in our hearts...
Baby Sister is now officially and legally a member of our family forever more.  As if she was a blood descendant born into wedlock with all the rights and privileges of an heir. 
That is what the actual document says. Isn't that just amazing?
Part of our testimony before the judge included a statement from our family read by my husband.
He said:
We thank the court for this opportunity to make legal what has already happened in our heart.  (Baby Sister) is a blessing to our family and a gift from God.  We cannot imagine our life without her and consider it a privilege and honor to be her parents.  We look forward to raising our daughter to be who God intends her to be and promise to love, cherish and protect her.
And that about sums it up.
What a very Merry Christmas we will have as we celebrate the newest addition to our family and her very first Christmas with us!