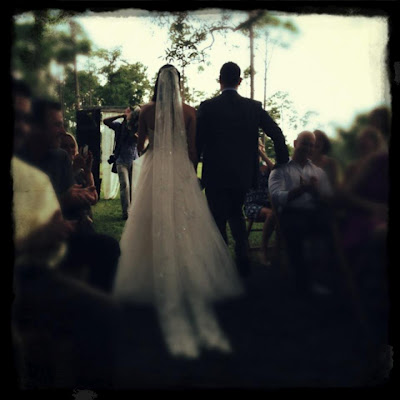 This weekend the Road Warrior and I went to a wedding to celebrate the union of two friends.  As I watched the couple exchange vows I couldn't help but think about my own wedding and all we've been through in the years following.
Like me, the bride is younger than her groom.  Like me, she is marrying a man who is already a father and she will have a step daughter.  I know that road isn't easy and  I was reminded of how naive I was as I embarked on the same path she was taking now.  I fully believed our love could conquer all.  Maybe it has, but it hasn't been without  blood, sweat or buckets of tears.
Our friends wrote their own vows and like every detail from their amazing wedding, it was them.  Laid bare in every way.  Vulnerable. Expectant.  Filled with love and hope.  The groom's vows alone would have gone viral on YouTube, I promise you that.  
Looking around I saw the tears well up in the eyes of many of the women in attendance, including my own.
How long had it been since my husband looked at me like that? What would I give to have him say those vows to me now?
And then I stopped thinking about myself and I looked at HER.
Was I as excited as she was to marry my husband?  Did I still look at my husband the way she was looking at hers?  Truly I don't think she would have cared, in that moment, if any of us were there.  She only saw him.
How long had it been since I only saw my husband, and not just the things that needed to be done around the house?

I remembered what it felt like to feel that way about my spouse and I vowed to get that feeling back. I don't believe it simply goes away. I believe we bury it with unforgiveness, resentment, selfishness, to do lists, and pursuits that serve no eternal purpose.  Simply put I believe it gets buried in everything we put before our spouse, including our children & ourselves.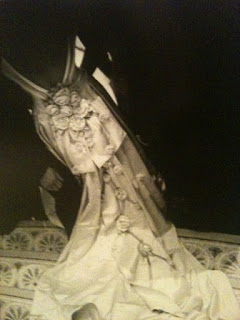 Without a doubt I love the Road Warrior more today than I did on the day we married.  But I'm also going to reclaim my fairy tale romance with him. I'm going to start looking at him the way a bride looks at her groom.  
My wedding day 2000
There are 5 pairs of eyes watching us and making note of what marriage is. I want to show them the fairy tale behind the commitment.