I have a new item in my make-up bag that I think you need in yours.  It's Mud's Cake Eyeliner and it's amazing.  I may never go back to the pencil eyeliner again.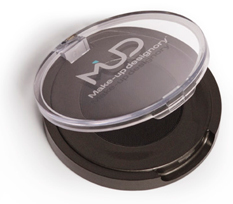 You can use it on your eyebrows and to line your eyes.  It is water activated and goes on smoothly and precisely.  You can adjust the thickness of the line simply by the brush you use, angle you use it and the pressure applied.  I like the eyeliner brush.
Between my new eye lash extensions and this eyeliner looking like a Trophy Mom suddenly got easier.