Eyelash extensions are very popular in my  neck of the woods.  Basically, if you want longer lashes and  you're too impatient for Latisse, then you get eyelash extensions.
I contemplated Latisse for about 2 minutes. Impatient, much?
My Before Photo
I must really have grown as a person if I'm posting a picture of me without make-up and with my gray hairs showing.  Either that or I'm desperate for a blog post.  Let's just say that I've grown as a person, shall we?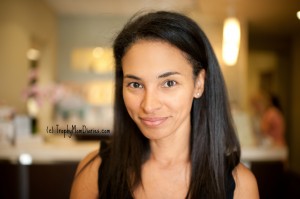 I would say my natural lashes are average. I don't have to curl them, so that's a plus.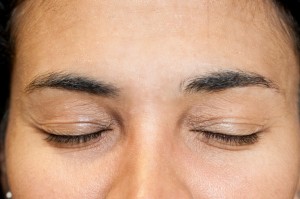 The Process
After a brief discussion about the lash length you desire (I went for medium), tape is applied to your eyes.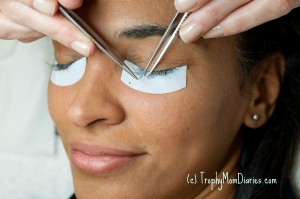 A single eyelash extension is applied to each individual eyelash.  The technician uses a blower to help dry the adhesive and you keep your eyes closed until the end.
My eyelash extensions took one hour.  I was comfortable except for a slight burning feeling occasionally. That went away quickly and my eyes were not red afterwards.
Do's and Don'ts

Do make sure that your technician is a licensed cosmetologist or esthetician.

Do ask what adhesive they use (should not be formaldehyde) with surgical glue being the preferred method.

Do ask to see your choice in sizes (they vary considerably) and consider a  (free) consultation before committing

Don't go to anyone who offers you cluster eyelashes. Eyelash extensions are a single lash applied to each individual eyelash

Don't get your lashes wet for 24 hours.

Don't try to remove them yourself. You can damage/break your own lashes. Always have them professionally removed.
After Photos: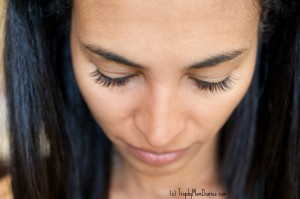 I think the best way to show the effect of eyelash extensions is without make-up. Because everyone looks amazing with make-up, right?

The Pros of Eyelash Extensions:
You have amazing eyelashes
You don't have to wear mascara (ever) which also means you don't have to remove mascara and deal with Raccoon eyes when you don't do it properly.
Even when you're not made up you look a bit more pulled together.
Your eyelashes look the same all day, no matter what.  Sweating at the gym? No problem! Fresh out of the pool? Ditto.
The Cons of Eyelash Extensions:
They're certainly not free. There is an expense involved and although the price can vary, it certainly costs more than 10 tubes of mascara.
Your eyes feel heavy the first couple hours of putting them on.
 Your eyes become a bit more high maintenance.  Washing your face is  different experience, you have to be gentle around the eye area and the lashes feel a little stiff. No rubbing your eyes!
The Road Warrior's Opinion
My husband was initially not really a fan of the lashes. However on the 2nd day he told me he did like that I looked more pulled together even when I did nothing.  I think that might have not been a compliment.
By day three he was liked them more.  One might say they were growing on him!  Ha!  However  I was also making more of an effort in the looking more pulled together department, so that might have swayed him too.
My Final opinion:
When you do wear make-up with these lashes you look AMAZING.  Some women use mascara on the bottom lashes. I skip it altogether now.  After a week I'm used to the small things that bothered me initially (washing my face differently, being more cautious with my eyes).  They shorten my time getting ready and help me to feel more put together.  While I don't think they are something I'd keep up with year round (I'm thinking of taking summers off), I'm really enjoying having them now and I'm looking forward to my touch up session.