I've already confessed to watching the Real Housewives of Beverly Hills on my iPad.  I think I enjoy watching the show because I used to live in Los Angeles, and let's just say I was no Beverly Hills Housewife when I did.   Which is to say that I didn't reside  in a huge mansion and shop till I dropped.  So, for the most part, it is just a fun look into the glitz and glamour side of Los Angeles—not that there isn't always some drama brewing but it's certainly not my focus when watching.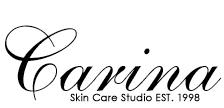 Which is why I was absolutely riveted when I saw the clip of Kyle and Kim getting this unusual looking facial by Carina at Carina's Skin Care.  I knew I absolutely had to try it when I went to LA and after talking to a few friends who are in the know,  I made an appointment!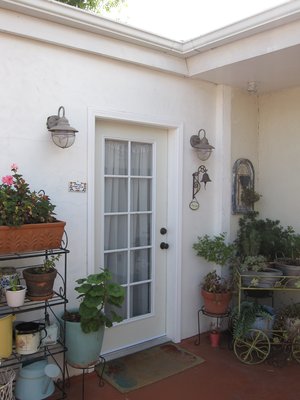 Carina's facial studio is located about 30 minutes outside of Beverly Hills.  From the street you see absolutely no signage as she works out of a studio in the rear of her home.  It was a lot smaller than I expected, but it was charming, very clean and Carina was so sweet and has the most amazing skin.  Which is what you want to see.
Carina told me that she has been doing this type of facial (and only this type of facial) for about 15 years.  There is so much science behind her facial that I knew I was in the right place when she explained it to me. 
TREATMENT PROCESS
The 70-minute treatment uses galvanic microcurrent which introduces a water-soluble solution into the dermal layer of the skin by a process called "iontophoresis". The only way we can truly penetrate the skin and affect it's lower layers is to draw vitamin-rich solutions into the dermal tissue by means of electricity. This microcurrent also helps firm the skin, promote new cell growth and stimulate cell production.
The galvanic treatment process has also proved extremely effective in the medical arena where it is recommended for pre and post laser and surgical procedures.
You will immediately notice exceptionally clean and rejuvenated skin after the first treatment. A combination of treatments and proper use of the recommended skincare products will give your skin the appearance of smoother and more youthful tone and texture.
Treat yourself, or someone you know, to one of Carina's expert and unique facials. You will immediately feel and see the difference.
In addition you can receive a microdermabrassion procedure with your treatment, which will enhance the results even more.Microdermabrassion also known as the power peel is a revolutionary skin rejuvenation process. This procedure uses a painless technique where skin's imperfections are removed without damaging its integrity. The result is smooth youthful appearance, most effective for the following conditions.
1. Improves acne scarring
2. Reduces fine lines and wrinkles
3. Exfoliates and rejuvenates
4. Minimizes white and black heads
5. Improves hyper pigmentation
6. Helps restore sun damaged skin.
Although not painful, this isn't a relaxing facial full of facial massages.  It is very results orientated, which is fine with me. I immediately noticed a difference when I got on the bed.  Carina uses a bolster to raise your feet up.  This is to help bring the blood circulation to your face, and with that the oxygen that it carries.
Next, she prepares your face for extraction which she does using only cotton cloth and her hands. 
From here on out you realize this is no facial you've ever had before!  It certainly doesn't look like any facial you've ever had before either.

When the final mask is attached with the electric currents you do get a tiny metalic taste in your mouth followed by a tingling sensation.  Carina says that is the minerals entering the dermis and the blood rushing to the skin.    It is by no means painful or uncomfortable. It's just different.
Afterwards my face felt amazingly clean.  As smooth as one would expect after a microdermabrasian facial but also a bit tighter…and my neck! Wow!  
I didn't want to put on makeup and I must tell you that EVERYWHERE I went that day. I was told that I was glowing.  My skin isn't just clean, it's different.
I gotta get back here next month some how.