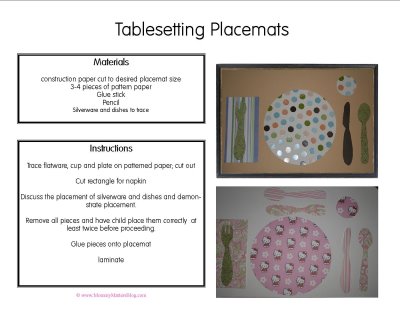 As part of our curriculum I've added "Life Skills" to our lineup.
Since my children are all under six years of age they actually enjoy this subject, but I'm told that this will soon come to an end so I'm enjoying it while it lasts!
Life Lesson: How to set a table.
I wanted them to set the table for each meal as part of their job.
In our family I prefer to use the term job over chore.
Because, a chore is exactly that—– An unpleasant or burdensome task.
While job is something you can take pride in.
You have a job.
You have a purpose.
"Mom, I don't have a fork"
"Whose job is it to get a fork?"
When you've completed the Placemat above your child can use that as a visual reminder of how to set the table. My three year old daughter has no problem placing the dishes and silverware on her placemat, and she takes great pride in it.
You may also choose to label each item on the placemat, although we did not do this. To get the perfect size placemat I just traced one of our favorite placemats, but you can cut them to any size. If you round out the corners it looks a bit more professional.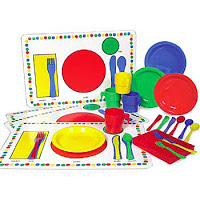 If you aren't up for an art project you can purchase a cute tablesetting kit from Constructive Playthings (see item #XX-89840 currently on sale for $15.97 (so don't say I never passed on a money saving idea).
Williams Sonoma also has a cute Melamine Puzzle Tray that is part tablesetting instruction and part puzzle. It's pretty cute and if I wasn't so impressed with myself for creating this tablesetting craft using my left over scrapbooking papers I may have considered it. But you are obviously free to purchase and let me know how it was!
Flip Flops and Applesauce also has a cute story to share with your child to help them remember how to set the table.