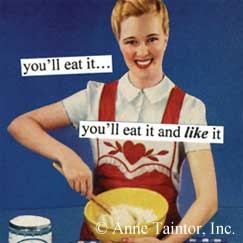 Yes, I am having one of those weeks with my
picky little eaters
.
I have tried everything.
There was operation starve the children
which was a dismal failure.
My children were hiding in the pantry eating cereal.
It was horrible!
Then we cut out milk.
Seriously.
My kids could live on milk alone.
They would drink their milk and throw the rest of the meal out.
Every time.
Then I pretended not to care.
Didn't work.
Now I'm resulting to ranting and raving
like a crazy person.
Ever say anything just completely stupid to your kids
and then wish you could suck it back in
before they realize what a moron you are?
Yeah, that was me.
I told them I wasn't even going to bother cooking dinner anymore.
Or going to the grocery store.
"Just eat whatever you want and make your own meals".
um, Dr. Phil?
It's just not workin' for me!