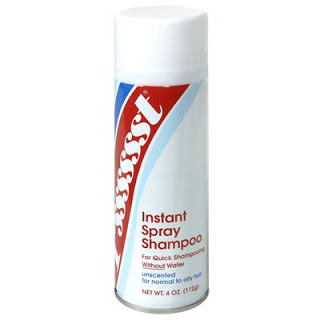 At the risk of everyone thinking I don't wash my hair regularly I will tell you that I am in LOVE with dry shampoos.
My favorite thus far is Psssst instant spray shampoo although it's unscented so if you were around smokers or feel like your hair is smelling funky, this isn't going to do much. But, if you are like me, who just wants/needs an extra two or three days out of her blow dry—-this is the product for you.
I took it with me to the hospital when I had my baby in March. I knew I'd be there 4 nights and between the baby and recovering from a c-section, I didn't think I'd be up for my 1 hour long blow dry. And I refuse to have pictures floating around of me with frizzy hair commemorating the occasion. Nope, I wanted the gorgeous hospital pictures where you have the full make up on too. Not that, that happened. But I at least had good hair.
On my first day out of bed I used it and as Big Daddy strolled into the hospital room (only slightly blurry eyed) he said, "Wow, what did you do to your hair?"
Now I have to say, I love Big Daddy for a lot of reasons, but that is certainly one of them.
He notices things.
Big Daddy can also drive me crazy sometimes because, well, he notices things.
So
even though I was trying to go green and this is an aerosol can…
even though I was trying to spend less money and not encourage spending…
I had to tell you about this amazing product.
Because I really, really, heart this product!