With the current state of the economy, I've really curbed my personal shopping. I confess that it has been a lot harder for me to curb my homeschool shopping though. We just believe in investing in our children's education and its hard for me to pass up an educational toy, game or manipulative. But I am trying. I am definitely learning to be more selective and price sensitive. It doesn't come naturally to me, but I am learning.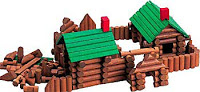 Constructive Playthings is having a sale on Wood Pioneer Logs (XX-9431). There are 200 real wooden log components currently on sale for $20.99. They are not the name brand version—-but they appear to be just as good and I don't think my boys will notice.
I placed my order this morning.
Let the building begin!