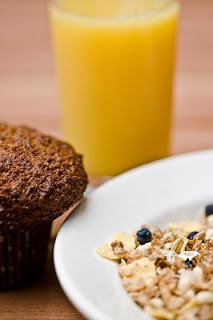 The morning routine at our house needs a routine.
So while cooking up the (microwave) oatmeal like a good little Mommy today, I had a revelation, of sorts.
We would have a SET (non changing) breakfast menu for each day of the week. It takes the guess work out of it and it stops 3 kids from putting in their individual orders like I'm a short order cook.
Here's my menu, but keep in mind I'm dealing with picky little eaters so we don't have a huge repertoire of breakfast foods.
Monday: Oatmeal
Tuesday: Scrambled Eggs & wheat toast w/ fruit
Wednesday: Waffles & yogurt
Thursday: yogurt parfaits & muffin
Friday: Cereal
Saturday: French Toast or Pancakes with fruit
Sunday: Cereal
** we have two cereal days because Friday's I need a break and on Sunday's we have church and eat a big brunch when we get home from church **

What do you or your children eat for breakfast? I think everyone ends up eating the same things each day (or most) anyway…Do you agree?