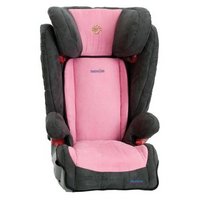 Did you know car seats expire? All car seats have an expiration date (varies by manufacturer) and they range anywhere from 5-8 years from the date of manufacture. So, like milk, you should probably check the expiration dates before buying (or shortly thereafter).
The two biggest reasons they expire are:
* Technology changes
* Wear and tear of materials (changes in temperature, and normal extended use)
Big Daddy thinks it's some conspiracy from the car seat makers but it sort of makes sense to me. The thing that doesn't make sense to me is why the seats are getting bigger (as in wider and heavier) each year to the point that even in a super-sized SUV you can just fit two car seats across the row and forget about putting a third person there—-unless they are the size of Thumbelina or extremely emaciated.
One of the smartest things I've ever done as a mother (and of course I've done many–ha) is to get our car seats professionally installed by a child passenger safety technician. I did this for the first time with our newborns and have done it each time we've switched car seats ever since. Not because I'm lazy and cannot read the directions, but because it's important and FREE. You can visit the Seat Check, Safe Kids, or NHTSA website to find a location near you. In some areas they will even come to your house!
SEVEN out of 10 children in child safety seats are not properly buckled in.
When it comes to car seats I've also learned that bigger isn't necessarily better. By increasing the weight of your car seat by 15 lbs (or more) you've just turned your 30 lb child into a 45 lb child when it comes to projection. That is one reason why a lot of car seats have tethers that unfortunately few parents even use in the forward facing position.
You will be amazed at what you will learn about car seats from the technician so definitely make a point of scheduling an appointment to have your car seats checked, even if you've been using them for awhile. Sometimes they have recall information that you've missed or they may even inform you that your car seat isn't even made for your type of car! Who knew?
If you need to brush up on your National Car seat safety laws read this. There is also a great article about why car seats expire from the Safety Squad that I recommend reading if all this sounds new to you.
In case you are curious, our new car seats are the Sunshine Kids Monterey Booster and Britax Marathon.
A very nice police officer installed them for us and we love them!