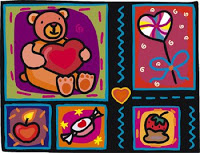 Last year I hosted a Valentine's Day party for my children and their friends. I wanted them to experience exchanging valentines because it is one of the few fond memories I have of my school years. Maybe my nostalgia was overcoming me, but I actually thought it would be sad if they never experienced this childhood tradition simply because I had chosen to homeschool them.
Since I am doing it for the second consecutive year it is now officially a family tradition. That's how it works in my family. Do something twice and you'll be doing it for life!
I'm actually excited about our party and looking forward to spending the time with my kids and their friends. Valentine's Day has never been very big for me. I do not expect flowers, candy, a card or even a dinner out. My husband is lucky if you ask me.

How do you celebrate Valentine's Day?
Have you made your Valentine's Day Cards yet?
If not, here are some links to cute cards you can download free!
Printable Valentine Cards:
Stitched Hearts
Sweetheart Candy Valentines Day Cards
Zebra Valentine's Day Cards
DLTK Holiday's assorted Valentine Cards
Coupons:
Dessert Coupon for kids
Extra half hour of tv coupon for kids