I'm amazed at all of the educational toys and games that my kids have that require batteries. It seems I am always stocking up on batteries at the local Costco. With our upcoming move underway I've been giving a lot of though to the organizational systems I want to have in place in our new home and battery organization is on my list.
There are basically two options for battery organization: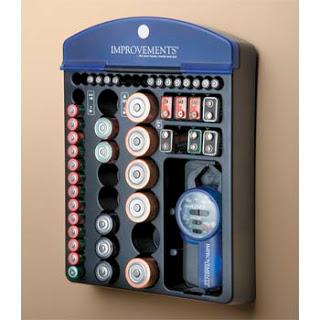 You may choose to use a battery organizer that fits in a drawer or can be mounted on a wall for easy access. The advantages of this system is that you can see what you have and they are quickly accessible. A possible disadvantage would be the extra task of refilling the holder and finding a place to store the extra batteries that do not fit in the holder.
Another option is simply creating a battery drawer. A battery drawer is simply a dedicated drawer for your batteries. The advantages of this system is that you have a dedicated drawer for your batteries so you won't have to go looking around. The disadvantage is that you may still have to dig around inside your drawer and you cannot as easily tell which batteries you are out of.
No matter which system you prefer, I recommend keeping your batteries in your laundry room, utility room or kitchen pantry.
Do you have a system for organizing your batteries?