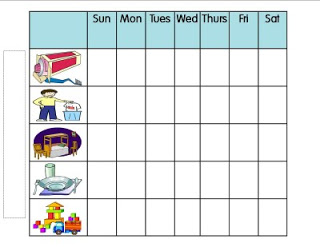 I'm a firm believer in children having chores.
Actually, we call them "responsibilities" here.
Chores has such a negative connotation, don't you think?  Responsibilities build self-esteem and pride in one's accomplishments.
In my opinion it's never too late (or too early) to start teaching your children about responsibility.  When my children could walk they began having tasks that they were proud of, such as putting their bib or clothes in the hamper and helping to clean up toys.
The Preschooler Chore Chart uses pictures, so reading isn't necessary.  You will want to review the pictures with your preschooler and make sure they understand what you want them to do.
The Preschooler Chore Chart Download includes:
Chore Chart Bundle (print it if it works for you, otherwise customize your own using the other pages).
Rewards
We do not provide our children with  monetary compensation for fulfilling their responsibilities.  In our home every family member helps with the household responsibilities to the extent they are able.    Instead of receiving an allowance for their work, they earn  privileges by fulfilling their responsibilities.   These privileges vary by child but  include such rewards as: computer or iPad time, selecting a movie for family movie night or having a special treat or dessert.
Additional Chore Chart Printables:
Preschoolers Chore Chart  from Simple Mom