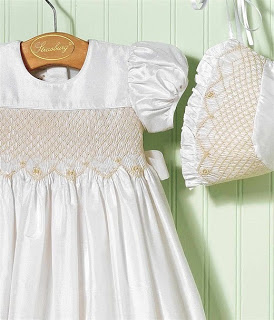 Our youngest daughter will be dedicated next weekend.  This is the gown she will wear.  Each of our girls have their own gown that I hope their future daughters and grand daughters will wear for their dedications.
The concept of dedicating a child was not one that many of our friends & neighbors were familiar with.  Because of that I printed an explanation on the back of the invitation to explain what it was that we were asking them to witness and participate in.
Children are special and amazing gifts from God. As believers, we must recognize that children belong first and foremost to God our Father, which means parents have the awesome responsibility of caring for His children.

At (our church),  parents dedicate their children back to God and commit themselves to raising their children in His ways before friends, relatives and church family.

Your attendance is an important part of this public promise before God.
Perhaps because I didn't grow up with many family traditions, I feel a need to pass some along to my children.  What could be a more important tradition than one woven with faith and opportunity for eternal life?
 Is your faith the foundation of your family traditions?  If so, how do you weave your faith into your family traditions?