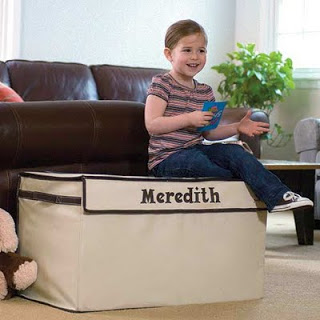 I recently came across One Step Ahead's Large Collapsible Toy Box and wanted to share it.
What I like about it:
-Folds flat when it is not in use
-Can be personalized
– It's large (30″x15″=x16″)
– It's sturdy—a child can sit on it (you know they will)
When it comes to personalization, think outside of the box.
Instead of putting the child's name on it, use other labels such as:
Toys
Blocks
Dress-up Clothes
Puppets
Preschool Box
Games
Puzzles
Stuffed Toys
Dolls
Cars, Trucks & Trains
Boy Stuff
Girl Stuff
Homeschoolers should consider:
Dramatic Play
Blocks
Language Arts
Math
Science
Happy Organizing & Shopping!