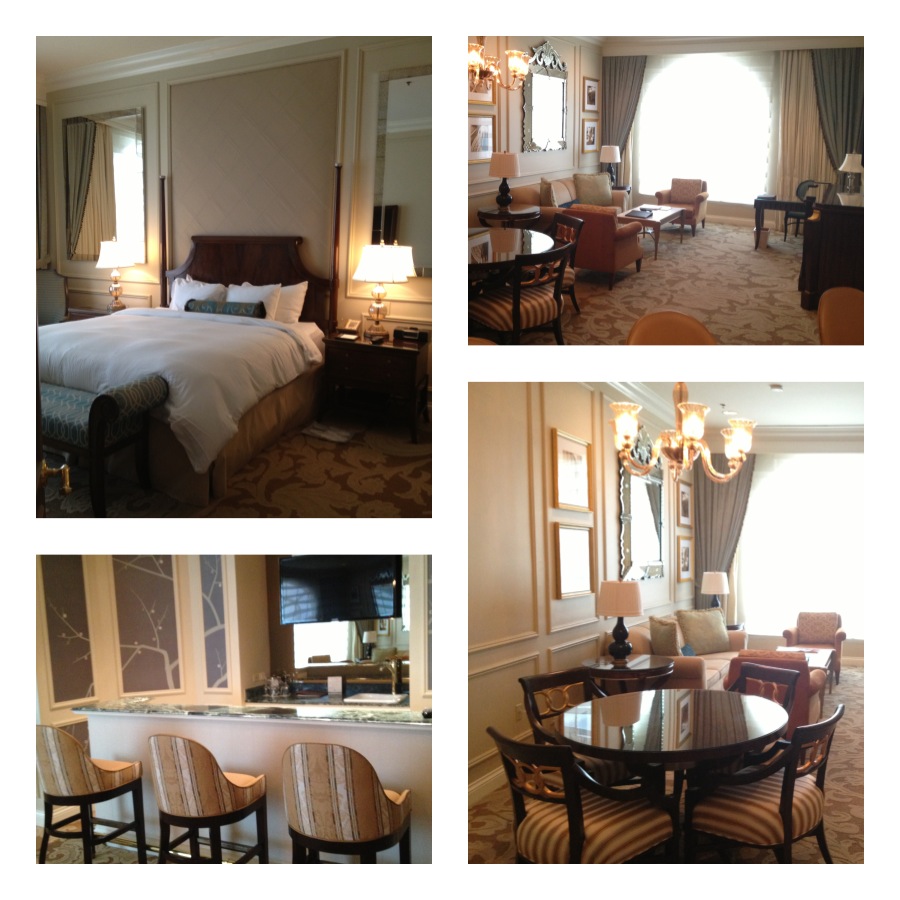 Accommodations at the Venetian Resort
The Piazza One Bedroom suite at the Venetian Resort is breathtaking and beautifully appointed. This spacious room has everything you could need and plenty of room to spread out and get comfortable.  I originally booked the Luxury 1 bedroom suite but was upgraded to the Piazza One Bedroom upon arrival.
Although you cannot walk through any casino in Las Vegas without experiencing second hand smoking, you can request a truly non-smoking room at the Venetian.
The housekeeping department does an excellent job and the bathroom amenities (toothpaste, tooth brush, shaving cream razor, q-tips, cotton balls, sewing kit, mouth wash etc) are thoughtful and on point.
Room Service was a breeze thanks to their online ordering system which I LOVED.  You can even preorder breakfast and it actually shows up on time and looks like the picture on the website.
Although it would be a shame never to leave the hotel, there is quite a bit at the hotel to keep you occupied.
Be sure to check out the Suite Value offer on the Luxury 1 bedroom suite.
Shopping at the Venetian Resort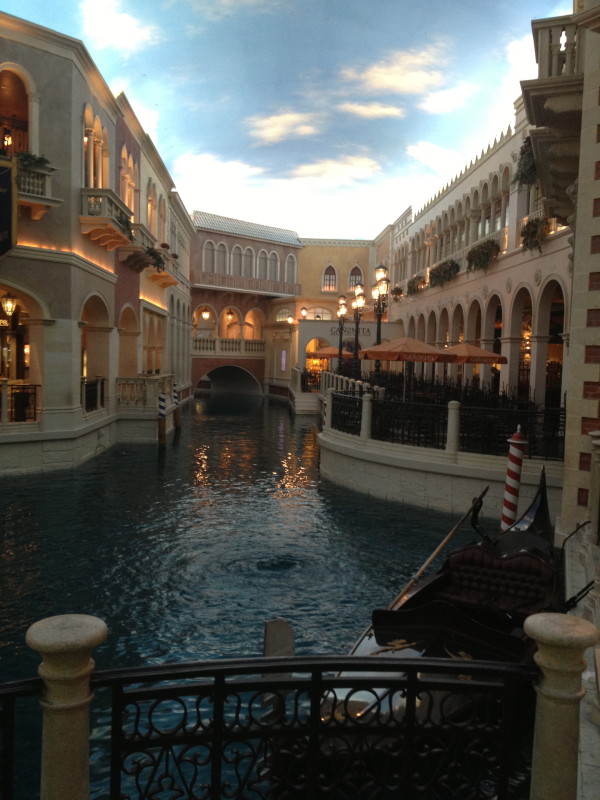 The first thing you notice when you enter the Grand Canal Shops is the Gondoliers.  Yes, it's all kinds of Vegas Touristy but the Gondola Rides are at least something to see, if not do.  If the kids were there we would have definitely had a ride.   Although it doesn't compare to actually being in Venice, it is pretty and makes the shopping at the Grand Canal Shops a little more interesting.
My favorite stores at the Grand Canal Shops:
7 for all Mankind
Barney's New York
Bottega Veneta
Chapel Hats
Chloe
Christan Louboutin
Herve Leger
Houdini's Magic Shop (great place for kids)
Tory Burch
Restaurants at the Venetian Resort
The Venetian Resort offers a variety of Fine dining and Casual dining options.
Instead of Starbucks try Cafe Press where I had the BEST Vanilla Chai Latte I've ever had.
If you're in the mood to try a Gastropub then Public House is where you want to go. I prefer it for lunch and I highly recommend the Prime Rib French Dip and the seasonal oysters.
Try Cut if you're in the mood for a really good steak, you won't be disappointed.
AquaKnox has a fantastic raw bar and is the place to go if you are in the mood for seafood.
Sweet Surrender has the most amazing cupcakes! Try the Birthday Surprise or the Red Velvet cupcake. It's not a restaurant, more of a kiosk but they will package it to go for you.
Espressamente Illy has a large selection of delicious sweet treats (among other things) but I didn't get past the macaroons. Don't go there without trying a few.
Canyon Ranch Spa at the Venetian Resort
If you like to indulge in spa treatments you cannot go wrong with the Canyon Ranch Spa at the Venetian Resort.  I was able to get same day appointments for most treatments and their gym also included a rock climbing wall!  If I wasn't here for an education conference I would have spent more time in the spa.