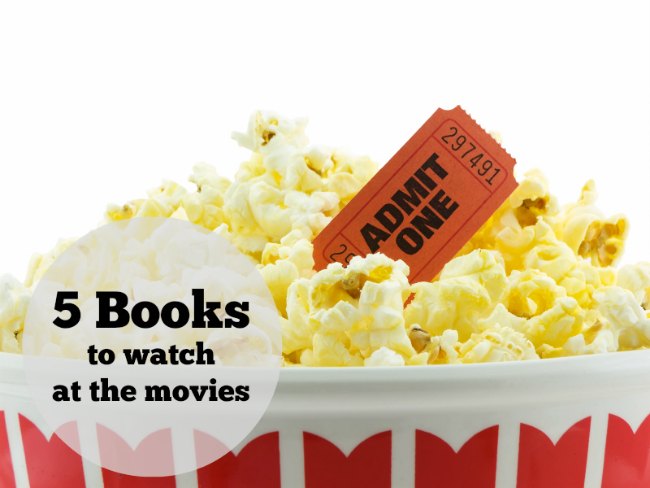 I'll admit that I don't often make it out to the movie theater and when I do it's usually an animated film with the kids.  However, that's about to change with the film adaptations of some of my favorite books.
Hazel Grace Lancaster, a three-year stage IV–cancer survivor, is clinically depressed. To help her deal with this, her doctor sends her to a weekly support group where she meets Augustus Waters, a fellow cancer survivor, and the two fall in love.

Release date: June 6, 2014
"This haunting story centers on twelve-year-old Jonas, who lives in a seemingly ideal, if colorless, world of conformity and contentment. Not until he is given his life assignment as the 'Receiver of Memory' does he begin to understand the dark, complex secrets behind his fragile community."

Release Date: August 5, 2014
"Set in a farming town in Kansas, Dark Places follows Libby Day (Charlize Theron), the only surviving witness of a horrific massacre that took her mother and sisters. Believing the slaughter to be the work of a Satanic cult, Libby testifies in court against her own brother. 25 years after the murder, she remains haunted by the gruesome violence of her past when she meets a group of amateur investigators who call themselves "The Kill Club". Looking to satisfy their morbid curiosity, the group begins their own inquiry about the case, believing Libby's brother innocent. In order to help them, Libby must unearth painful memories of the event and learn that her past may not be what it seems."

Release Date: September 1, 2014
"On a warm summer morning in North Carthage, Missouri, it is Nick and Amy Dunne's fifth wedding anniversary. Presents are being wrapped and reservations are being made when Nick's clever and beautiful wife disappears. Husband-of-the-Year Nick isn't doing himself any favors with cringe-worthy daydreams about the slope and shape of his wife's head, but passages from Amy's diary reveal the alpha-girl perfectionist could have put anyone dangerously on edge. Under mounting pressure from the police and the media—as well as Amy's fiercely doting parents—the town golden boy parades an endless series of lies, deceits, and inappropriate behavior. Nick is oddly evasive, and he's definitely bitter—but is he really a killer? "

Release Date: October 3, 2014
"Bilbo Baggins is a hobbit who enjoys a comfortable, unambitious life, rarely traveling any farther than his pantry or cellar. But his contentment is disturbed when the wizard Gandalf and a company of dwarves arrive on his doorstep one day to whisk him away on an adventure."
Release Date: December 17, 2014
Have you read any of these books? 
Which films are you looking forward to seeing this year?