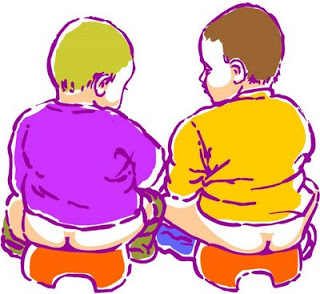 When my twin boys were about 14 months I remember reading an article in People Magazine (yes, I'm one of those people that read People) about a woman who ran a potty training boot camp. Accompanying the article was a picture of about 12 little ones on their potty with juice boxes in hand. After the two day boot camp the kids went home without diapers and their parents left about $1,500 poorer.
At the time that I read this, I the parenting expert of about 14 months, mocked these mothers. I thought to myself, "you have to be a pretty pathetic mother if you who would pay a stranger to potty train your child."
After all, didn't these women go to the library or watch Dr. Phil? After all, Doctor Phil claimed you can potty train a child in 24 hours with the right potty training doll and a promise of a party. I laughed and threw the magazine away vowing that this would NEVER be me. I mean I had housebroken dogs before. How hard could it be to potty train a human child that you could reason with… and bribe?
Well, my twin boys potty trained at 3 years and 3.5 years, they are after all individuals and not clones. My parents of course mocked me and claimed in "their day" the children were all potty trained at 18 months. But I didn't buy it. After all, weren't these the same parents who claimed to walk to school barefoot uphill, both ways? I was pleased with my boys potty training and my obvious advanced abilities as a mother.
When it came time for my daughter to potty train I felt it would be even easier. After all, she was a G-I-R-L.
And girls are just supposed to wake up one morning and declare,
"Mommy, I don't want these yucky diapers anymore. I'm ready for my Princess Panties!"
Also my daughter is smart.
Truly, she is.
Did I mention she is homeschooled?
Yes, she is homeschooled, so of course she is brilliant beyond measure.
Aren't all homeschooled children?
So why is she walking around in diapers still?
Why am I combing the internet trying to find that woman's name and number so I can offer her triple the wage to come to my house in Florida and potty train my daughter?
The reasons are sadly:
My daughter is homeschooled

. I feel it is a reflection on

me

and my ability to homeschool my children if my 3 year old daughter is in diapers. Homeschooled kids are expected to do everything better—-and I feel judged. Every time someone comments, "Oh, she's still in diapers?" I feel they are really saying, "How can you homeschool your children when you cannot even potty train your 3 year old?"

I find poopy diapers just plain G-R-O-S-S.

I mean seriously, whoever said, "You don't mind changing diapers when it's your own child" was just plain crazy. I still gag and I'm well into my 5th year of changing poopy diapers. I am not above handing a diaper to a child and telling them to "go ask Daddy to change your diaper" while I go hide in the bathroom until the deed is done. I don't even want to think of the estimated number of diapers I've changed and will change before my tenure in poop is up.
I have officially given up.
If the Potty Training Boot Camp lady reads this post,
I just want to say—–HONEY CALL ME!

I have been humbled.
The pediatrician tells me my daughter won't go to college in diapers.
I'm not so sure.