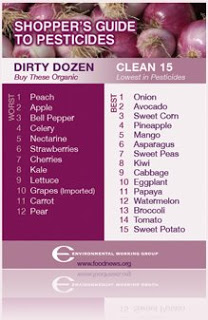 Do you know about the Dirty Dozen? You should. Download your guide for free and keep it in your purse or with your shopping bags in your car.
Even if you are shopping at an "organic grocery store" please make sure the produce you are buying is actually organic. I recently was surprised to learn that my store, Whole Foods, carries fruits and vegetables that are not organic and I was purchasing them for my family thinking they were. Even in places like Whole Foods, Greenwise, Fresh Fields and others, you will need to read the labels.
Another simple way to ensure that your family is getting the best organic produce available (at a reasonable cost) is to subscribe to a CSA program. Local Harvest's website has a locator to help you find the best organic food that is grown in your area. Simply enter your zip code and view the list. They also include a list of companies that will ship their produce to you. You can learn more about CSA (Community Supported Agriculture) here.
Sometimes it seems there just isn't enough hours in a day to be a homemaker. Did you know about the dirty dozen? Have you already made the switch for your family? Do you have a CSA Membership or have a great online produce vendor you love? I'd love to hear your thoughts and tips.