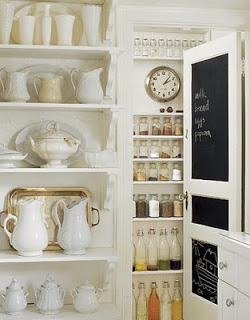 I am in a nesting stage right now.  Whether it is just my typical homemaking OCD kicking in or post adoption nesting is anyone's guess.
Having a well-stocked pantry is essential to homemaking.  It also varies by family and cook.  
The cook who makes everything from scratch will have a very different pantry from someone who uses canned or pre-prepared foods as their base and a person with no children and gourmet tastes will have a different pantry from someone with 4 picky little eaters.
My goal in sharing this list of pantry items is that it help serve as a launching point for you to create a list of pantry items for your home.  The idea behind a well-stocked pantry is that by having one you will always have the essentials on hand to make meals for your family.  Savvy homemakers also utilize a well-stocked pantry to lower their monthly grocery costs.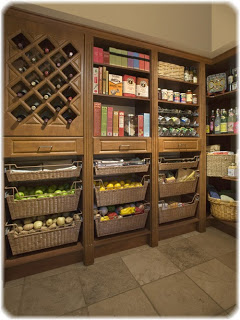 The Essentials for a well-stocked pantry
Baking Powder (small container)
All-Purpose Flour
Baking Soda
Sugar (granulated)
Confectioners' Sugar
Brown Sugar
Chocolate Chips
Cocoa
Cornstarch
Yeast
Dry Cereal
Oatmeal
Bread (sandwich, pita, hot dog, hamburger)
Rice
Pasta
Popcorn
Worcestershire Sauce
White vinegar
Red Wine vinegar
Vegetable Oil
Olive Oil
Maple syrup
Non-stick cooking spray

Chicken broth 
Vegetable Broth
Beef Broth
Ketchup
Mayonnaise
Mustard
Nut Butter (Peanut, almond, coconut, Sunflower butter)
Jelly/Jam
Spaghetti Sauce
Canned Tomatos
Tomato Paste
Canned Beans
Canned Tuna
Salad Dressing
Basil
Bay Leaves
Cinnamon
Garlic Powder
Nutmeg
Onion powder or flakes
Oregano
Paprika
Black Pepper
Sea Salt
Sage
Rosemary
Thyme
Vanilla Extract
Coffee
Tea
How to create your own Well-Stocked Pantry:
1

Determine what your favorite 5 family meals are and try to have those ingredients on hand at all times.
2 Look over your grocery lists for the past month. Do you see any repeating patterns? Consider those items for your own well-stocked pantry list.
3 Always arrange your pantry shelves so that the newly purchased items are in the back. 
Did I miss any essentials? What would you add to this list?